Onglyza (saxagliptin) is a medication used to lower blood sugar levels in adults with type 2 diabetes. The drug is also available in an extended release formulation, Kombiglyze XR (saxagliptin and metformin). Both are made by AstraZeneca, and both are associated with an increased risk of heart failure, heart attack, cardiovascular injury, and even death.
The Food and Drug Administration (FDA) approved Onglyza despite concerns over possible cardiovascular risks.
In a follow-up study performed after Onglyza was approved, it was observed that Onglyza patients, compared to a control group, were 27% more likely to be hospitalized for heart failure. The study also found that Onglyza users had a substantial increase in "all-cause mortality."
Onglyza has been available since 2009, but information about its link to heart failure was not made public until 2014. By then, the drug had already been prescribed to millions of people.
If you or a loved one was hospitalized or killed while taking Onglyza, you may be eligible to file a lawsuit against AstraZeneca.
About Diabetes and Saxagliptin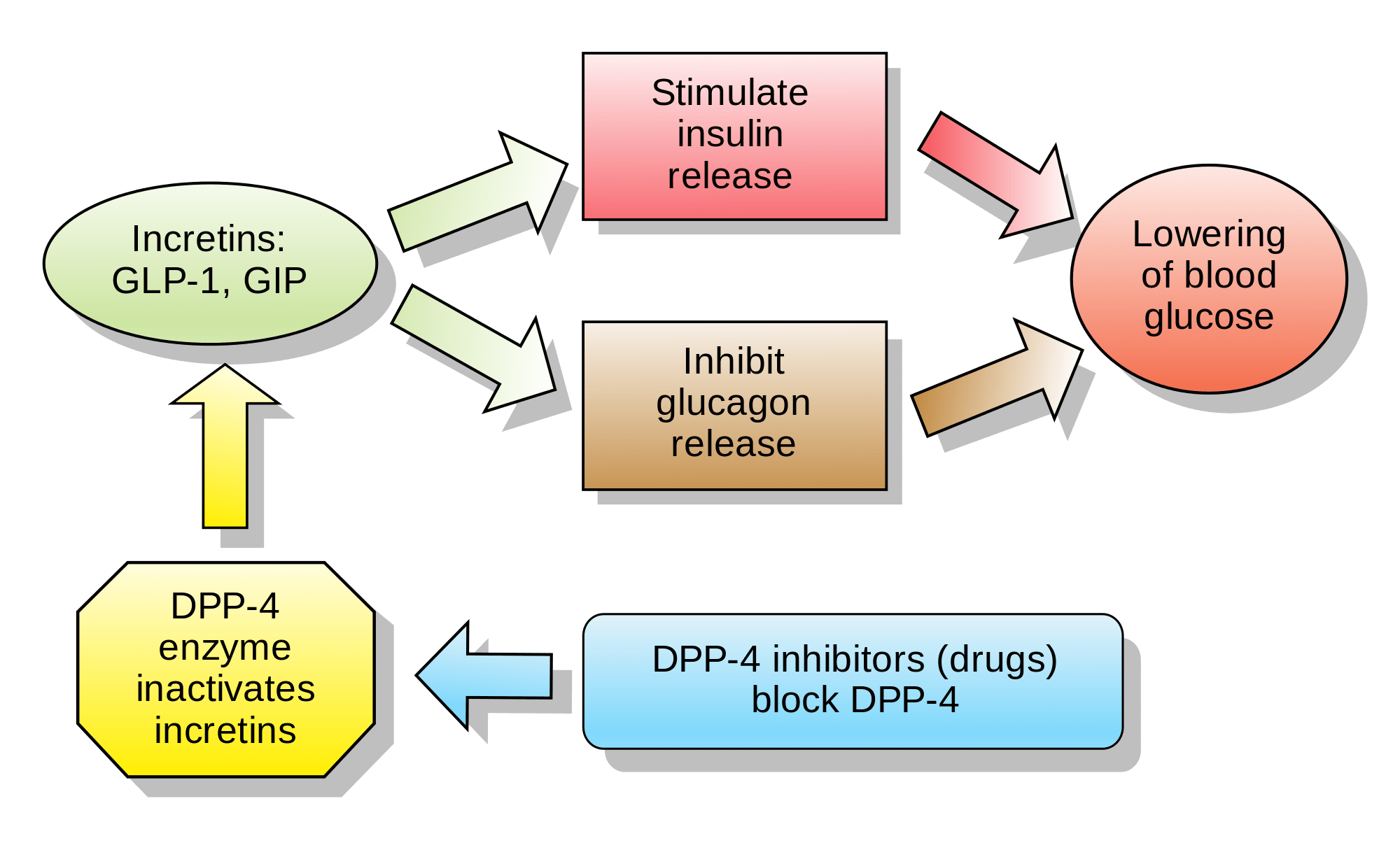 Onglyza and Kombiglyze XR are approved to treat type 2 diabetes. Diabetes has reached epidemic proportions in the United States, affecting 29 million people. Type 2 diabetes accounts for 90-95% of all adult cases of diabetes.
People with type 2 diabetes don't use insulin properly. When food is digested, the body turns it into sugars (glucose). The body also produces insulin, a hormone that signals cells to accept and store glucose. Type 2 diabetics don't produce enough insulin, so cells can't absorb glucose and blood glucose levels rise to higher-than-normal levels. Over time this can damage the body and lead to a host of health complications.
Along with diet and exercise, diabetes medications can control high blood sugar in adults with type 2 diabetes.
Onglyza and Kombiglyze XR belong to a class of diabetes medications called DPP-4 (dipeptidyl peptidase IV) inhibitors.
DPP-4 is an enzyme that destroys a gut hormone called incretin. Incretin causes the pancreas to produce more insulin. Inhibiting DPP-4 helps incretin to remain in the body longer, triggering insulin release and lowering blood sugar levels.
Onglyza (approved in 2009) and Kombiglyze XR (approved in 2010) belong to a wider class of drugs known as "incretin mimetics." When they first appeared, these drugs were praised as "the new darlings of diabetes treatment" and the biggest breakthrough since the discovery of insulin.
Growing safety concerns with the drugs, however, have given medical experts pause.
FDA Warns of Onglyza Heart Failure Risk
FDA issued a drug safety communication in April 2016 saying that new labels would be added to Onglyza and Kombiglyze XR warning about the risk of heart failure.
The new warning labels come a year after an FDA panel reviewed safety data on Onglyza and said the drug should carry information about heart failure risk. Data came from the 16,000-patient SAVOR study, which showed that Onglyza patients had a 27% greater risk of hospitalization for heart failure.
Overall, 3.5% of patients who received saxagliptin were hospitalized for heart failure.
A review of the data also found a significantly increased risk of all-cause mortality (death from all causes) among Onglyza patients.
Fourteen out of 15 FDA panel members voted to update Onglyza labels to reflect the increased risk for heart failure. The other member voted to withdraw Onglyza from the U.S. market entirely.
Heart failure is a condition in which the heart isn't pumping as much blood as it should. Symptoms include:
Shortness of breath during routine activities
Shortness of breath while lying down
Fatigue and weakness
Swelling in the legs, feet, and ankles
Confusion/difficulty concentrating
Weight gain from fluid retention
Rapid or irregular heart beat
Severe Joint Pain
In August 2015, the FDA warned that DPP-4 inhibitors, including Onglyza and Kombiglyze XR, may cause severe and disabling joint pain. New labels have been added to the drugs to reflect this risk.
The FDA changed its labels due to dozens of complaints logged with its adverse event reporting system. According to the FDA, patients displayed symptoms of severe joint pain from one day to several years after they started taking a DPP-4 inhibitor. About one-third of patients reported fever, chills, rash, and swelling. Pain was severe enough in some cases to cause hospitalization.
Symptoms subsided less than a month after patients stopped taking the drug, and resumed in some patients who restarted a DPP-4 inhibitor.
Pancreatitis and Pancreatic Cancer
A warning for pancreatitis was added to Onglyza in 2011 based on post-marketing reports of acute pancreatitis in patients taking the drug. Suspicions have also been raised about the drug's link to pancreatic cancer—a risk that, along with pancreatitis, the FDA drew attention to in a 2013 drug safety communication.
The FDA based its communication on academic research that suggested patients taking incretin mimetics (a class of drugs that includes Onglyza) had an increased risk of pancreatitis.
The researchers also found pre-cancerous cellular changes in the pancreases of patients taking these drugs.
Pancreatic damage from drugs like Onglyza has also been observed in research published in JAMA and BMJ.
Both the FDA and its European counterpart, the EMA, agreed in 2014 that they could not find a definitive link between incretin-based drugs and pancreatitis or pancreatic cancer. But the agencies cautioned that it was also too early to rule out a causal relationship between the drugs and pancreas problems.
A meta-analysis of three major clinical trials presented at the World Diabetes Congress 2015 found that DPP-4 inhibitors present a statistically significant increased risk of acute pancreatitis.
A causal link between saxagliptin and cancer-related death was not observed—nor was it ruled out—based on analysis of a long-term study presented at the American Diabetes Association (ADA) 2015 Scientific Sessions in Toronto. The lead researcher of the study, Dr. Lawrence A. Leiter, admitted that the findings were limited by the relatively small number of individual cancer types and the short follow-up time.
Pancreatitis is marked by abdominal pain, nausea, and vomiting, while pancreatic cancer symptoms include:
Yellowing of the eyes and skin (jaundice)
Dark urine and/or light, greasy stools
Abdominal or back pain
Unintended weight loss
Nausea and vomiting
Worsening of diabetes
Thyroid Cancer
The diabetes drug Victoza (liraglutide)—a drug that, like Onglyza and Kombiglyze XR is an incretin mimetic—has been linked to thyroid cancer in animal studies. The FDA states that the relevancy of these studies to humans is unknown, but it's also required the manufacturer to set up a registry to monitor possible cases, and warned doctors to be on the lookout for thyroid tumors in patients.
Kombiglyze XR Side Effects
Kombiglyze XR, since it contains the main active ingredient (saxagliptin) as Onglyza, presents the same health risks. An additional risk of Kombiglyze XR, which also contains the ingredient metformin hydrochloride, is lactic acidosis.
Lactic acidosis is a build-up of lactic acid in the blood that can be fatal. This side effect is well-documented for Kombiglyze XR, but patients need to be vigilant for symptoms, which include weakness, fatigue, difficulty breathing, muscle pain, slow or irregular heartbeat, and dizziness.
Onglyza & Kombiglyze XR Lawsuits
If you or a loved one suffered heart failure, heart attack, cardiovascular injury, or death while taking Onglyza, we can help.
We are one of the largest and most awarded firms in the country, and we have extensive experience with cases of this nature.
Find out whether you qualify for legal action and get answers to your questions during a free case review.