FDA Issues New Black Box Warnings for Essure
Published April 18, 2016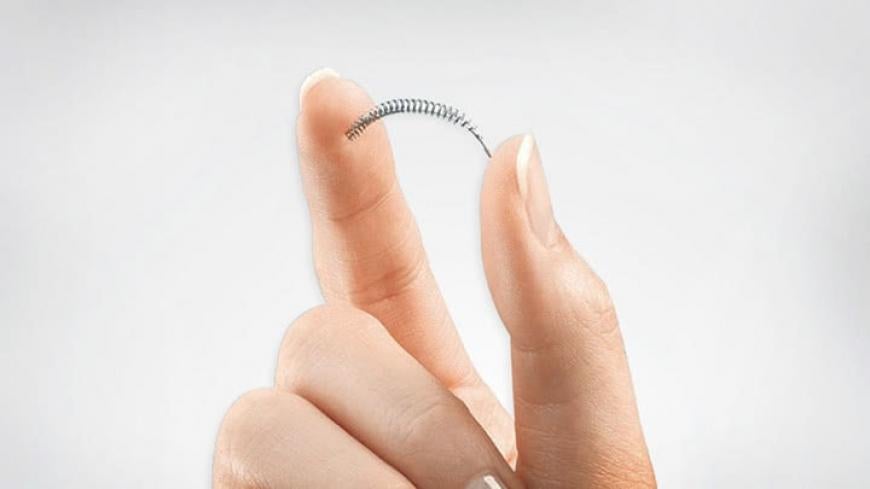 The U.S. Food and Drug Administration (FDA) has ordered stronger "black box" warnings for Essure, the surgery-free sterilization procedure sold by Bayer since its FDA approval in November 2002.
The new guidances ask that the boxed warning "Note the types of significant and/or common adverse events that may be associated with the device and its insertion and/or removal procedures," and "Include a statement noting that these risks should be conveyed to the patient during the woman's decision-making process."
The FDA has also asked Bayer to conduct new studies of the device to more accurately assess its risks and complications. These guidances arrive in the wake of more than 5,000 Essure-related adverse events, and a 2015 study that found that women who received Essure instead of having their tubes tied were ten times more likely to need a second operation.
Congresspersons like Mike Fitzpatrick (R—PA) and Rosa DeLauro (D—CT), consumer groups like Public Citizen, advocates like Erin Brockovich, and thousands of women have long pushed for an outright recall of Essure. Many expressed disappointment in the FDA's decision not to ban the procedure.
Sara Sorscher, an attorney for Public Citizen, said, "The FDA unacceptably puts patients at risk by allowing the device to continue to be marketed as this surveillance study proceeds."
The FDA's deputy director for science in the center for devices and radiological health, Dr. William Maisel, told reporters, "The agency continues to believe the product should remain available to women who are informed of the risks."
What Is Essure?
Essure, which hit the market in 2002, is the only permanent, nonsurgical birth control method in the United States. The procedure involves implanting two tiny nickel-titanium coils into the fallopian tubes to prevent fertilization. It takes just 10-15 minutes, and most women go home within an hour after the procedure. About three months later, they can stop using traditional birth control and rely on Essure.
For years, the device seemed like an affordable, safe, and highly effective alternative to tubal ligation (having one's tubes tied). But most early studies were short-term, and in recent years, reports of severe side effects have soared.
Complications range from pain and bloating to coils breaking and piercing organs. Many women say the procedure—which is irreversible—ruined their lives.
Bayer maintains that, when used properly, Essure is extremely safe and effective (99%, according to them). But tens of thousands of women disagree, and the new FDA warnings seem to vindicate their claims.
Adverse Events Skyrocketed from 2012 to 2015
The new study will involve more than 2,000 women who will be monitored for at least three years. Past studies were not so extensive and followed a relatively small number of women for a relatively short period of time. For example:
Seventy-five percent of the 745 women studied before Essure hit the market were not consulted two years after having the device implanted.
In a five-year study conducted shortly after Essure became available, nearly a third of women were not followed up with through the end of the study.
A 2009 study, which determined that "Only a few small risks are associated with the procedure," was also short-term.
The length of these studies is crucial because side effects often don't manifest for years. From November 2002 to October 2013, there were 943 adverse event reports related to Essure: an average of roughly 86 per year. In 2013 alone, the number jumped to 817. The next year, it skyrocketed to 2,259.
Complications are so rampant among Essure users that they spawned a support group on Facebook. Angie Firmalino founded Essure Problems in 2011; its membership has since grown to over 27,000. Firmalino has also created a nonprofit group called ASHES: Advocating Safety in Healthcare E-Sisters.
In 2014, famed consumer advocate Erin Brockovich joined the fight, launching a website where women can tell their stories and sign a petition calling for a ban of Essure.
Many Patients Exploring Legal Options
Despite thousands of complications, Essure remains on the market. Patient health has been put at risk; some of the serious side effects reportedly caused by Essure include:
Pain/Abdominal Pain
Menstrual Irregularities
Headache
Fatigue
Bloating
Bleeding
Weight Fluctuations
Patient Device Incompatibility (e.g., possible nickel allergy)
Migration of the Device or Device Component
Device Operating Differently Than Expected
Device Breakage
Malposition of the Device
Organ Perforation
Dyspareunia (difficult or painful sexual intercourse)
If you have used Essure and would like to explore your legal options, the attorneys at ClassAction.com can help.
Our attorneys have your best interests at heart, and the experience and skills to win in court. We stand ready to evaluate your case and determine whether you are entitled to compensation for any injury or medical costs related to your use of Essure.