Recalled Takata Airbags Still Being Used
Published June 10, 2016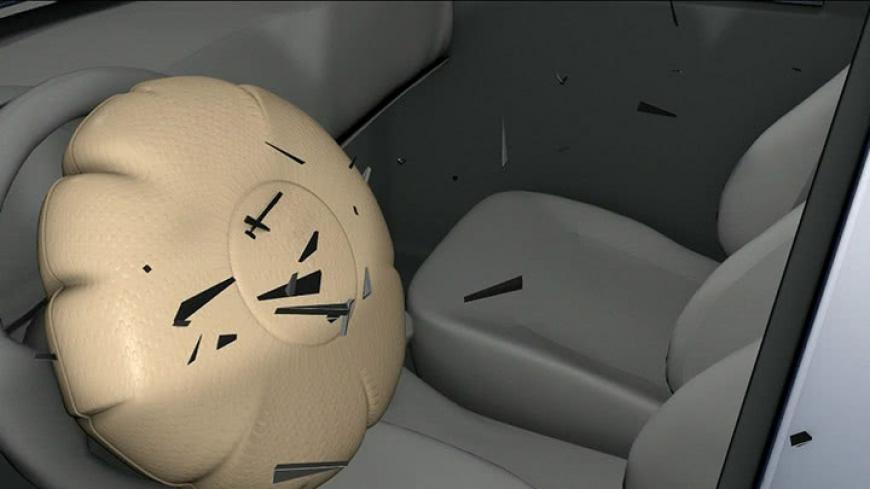 Automakers have not stopped placing recalled Takata airbag inflators in vehicles. Not only are new vehicles being equipped with defective airbags, but vehicles brought in for repairs are also receiving newer inflators with the same design as the older ones. Millions of these vehicles will be recalled within a couple of years, some for the second time.
According to a Senate Commerce Committee report released on June 1, Toyota, Volkswagen, Fiat Chrysler, and Mitsubishi continue to equip new vehicles with faulty Takata airbags that prompted the largest safety recall in history and are blamed for at least 13 deaths and more than 100 injuries.
Assuming that the airbags are safe—a dangerous assumption, given their association with deaths and injuries—consumers have the right to know about the defective part in their car.
Japanese auto parts supplier Takata is recalling more than 60 million airbag inflators in the United States due to concerns that a combination of heat, humidity, and time can degrade ammonium-nitrate (a compound which helps to inflate the airbag) and lead to excessively forceful airbag deployment that bursts the inflator casing, sending metal shrapnel at vehicle occupants.
Takata is permitted by federal regulators to equip vehicles in production with the defective airbags, but the vehicles will need to be recalled by the end of 2018. An even bigger problem is that automakers are not required to disclose the airbag issue to buyers.
"I find it bizarre on multiple levels," Kelly Blue Book analyst Karl Brauer told the New York Times. "Multiple mainstream automakers essentially know that they are selling cars that already have a defective part in them. And it's not a defective windshield wiper or sun visor hinge. It's an airbag, a primary safety device."
The National Highway Traffic Safety Administration (NHTSA) states that the new ammonium nitrate airbags don't pose an immediate concern because the issue develops over a period of years. But even assuming that the airbags are safe—a dangerous assumption, given their association with deaths and injuries—consumers have the right to know about the defective part in their car.
"Shouldn't we at least let the buyer know that they're going to have an airbag that's going to be recalled in two years if they're purchasing a new car?" said Senator Bill Nelson, ranking member of the Senate Committee on Commerce, Science, and Transportation and author of the Committee's June 1 report.
Nelson's comment came as lawmakers questioned Transportation Secretary Anthony Foxx on June 8 during a Senate hearing. Foxx said that he agreed automakers should disclose whether new cars are equipped with faulty airbags but acknowledged he lacked the authority to make the disclosures a requirement. The Wall Street Journal reports that mandating the disclosures would require renegotiating recall terms with Takata.
Only Volkswagen and Mitsubishi provided any information about models containing recalled airbags. Volkswagen reported that the 2016 Volkswagen CC, 2016 Audi TT, and 2017 Audi R8 are equipped with the part, while Mitsubishi revealed that the 2016 and 2017 i-MiEV electric cars contain the risky airbags.
Toyota said it will produce about 175,000 cars with defective Takata airbags through 2017, but did not name which models are affected. Fiat Chrysler told the Senate committee that one current model uses an ammonium nitrate Takata airbag.
(UPDATE: Responding to Congressional criticism, Toyota announced that the following in production/in stock models are equipped with Takata airbags subject to future recall: 2016 Toyota 4Runner and Lexus GX460; 2015 Lexus IS250C/350C, Scion xB, Lexus GX460, and Toyota 4Runner.)
(UPDATE II: Fiat Chrysler said on June 22 that, by the end of the following week, it will no longer use Takata airbag inflators without protective drying powder in its North American vehicles. The 2016 Jeep Wrangler's passenger-side inflator will be the final vehicle FCA makes with recalled Takata airbags. The automaker also said it will identify for customers which unsold vehicles have the faulty inflators.)
Faulty Inflators Also Being Placed in Recalled Vehicles
It's not just new cars that are receiving ticking time bomb Takata airbags. Cars brought in for repairs as part of the massive recall are receiving ammonium nitrate replacement inflators as well—the very same inflators that caused the recall in the first place.
The Senate Commerce Committee report notes that "the majority of the replacement inflators installed in vehicles as of March 2016 are Takata's ammonium-nitrate inflators."
Recall completion rates range from .04% to 39.5% among 11 automakers.
Some of these replacement inflators contain a chemical drying agent (dessicant) that is supposed to fix the problem with Takata airbags. But more than 2.1 million replacement inflators installed in U.S. vehicles do not contain the drying agent, and these will need to be recalled by December 31, 2019.
NHTSA is requiring Takata to test the desiccated inflators, which may be recalled in the future if their safety cannot be demonstrated. No ruptures of desiccated inflators have been reported to date.
Part shortages are blamed for the use of defective airbags in new and older vehicles. Takata simply cannot keep up with massive demand for replacement inflators. The use of ammonium nitrate inflators is considered a short term solution.
Recall completion rates, which range from .04% to 39.5% among 11 automakers, remain "unacceptably low" according to Senator Nelson.
Were you or a loved one injured in a crash with a Takata airbag? Have questions about your rights and options? ClassAction.com can help.