Think Before You Gift: 10 Dangerous Products
Published December 04, 2017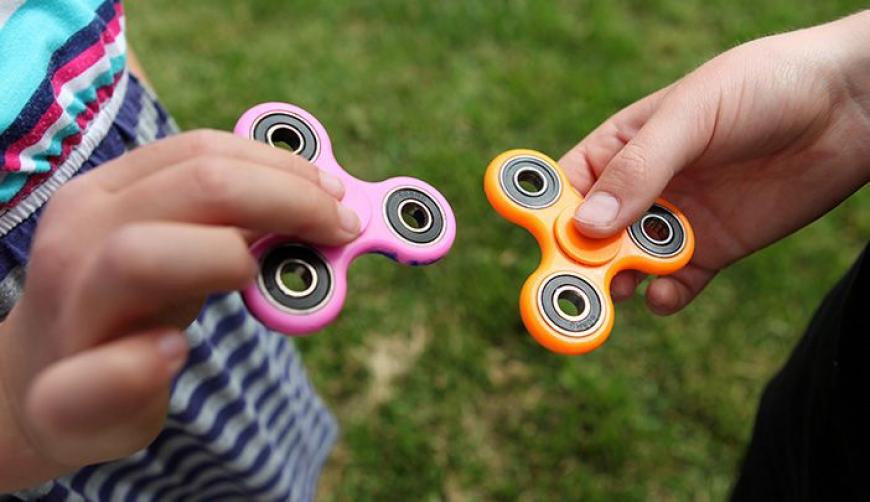 Toy-related injuries increased 40% from 1990 to 2011.
With holiday shopping in full swing, there are some items that shoppers should think twice about before wrapping them for their loved ones.
Toy-related injuries increased 40% from 1990 to 2011. But it isn't just children who are vulnerable to injuries from their presents. Kitchen gadgets and electronics can also quickly turn a fun-filled holiday into an overnight stay at the emergency room if they malfunction. 
Here are 10 products that may be unsafe to give to your loved ones.
1. Electronics or Toys with Button Cell Batteries
In the flurry of trying out new gadgets and toys, households with infants and toddlers should be mindful of leaving button batteries around. Infants can easily mistake these small batteries for candy and swallow them. Not only does this pose a choking hazard, but ingesting the batteries can also cause severe internal injuries.
Once ingested, the current from these small lithium-ion batteries can set off a chemical reaction, burning and attacking internal organs and tissue. Each year, about 3,500 children swallow button cell batteries. In some extreme cases, these incidents can result in permanent injuries or fatalities.
2. Zen Magnets
Some children ages 9 to 16 have accidentally swallowed Zen Magnets after placing them on their braces.
The U.S. Consumer Product Safety Commission (CPSC) ordered Zen Magnets to stop selling their powerful spherical magnets because they posed a choking hazard to children. But two weeks ago, the manufacturer hit back by suing the CPSC. Their products are still available for purchase.
Though they are marketed to adults who use the small magnets to design shapes and figures, some children ages 9 to 16 have accidentally swallowed them after placing them on their braces. The magnets also pose a choking risk for toddlers and infants.
When two are swallowed, the powerful magnets can cause life-threatening digestive tissue injuries when they attract. The CPSC estimates that there are more than 600 cases per year of children sustaining injuries from swallowing two or more zen magnets.
3. Drones
Drones have become more and more popular with every holiday season. Though parents can now buy toy versions of the device, like the Spider-Man Spider-Drone, drones still require some skill to operate in order to avoid collisions.
More advanced drones have obstacle collision avoidance technology, but even then, it doesn't always work. Drones have malfunctioned and collided with people, knocking them unconscious and lacerating them with their high-speed rotating blades severely enough to require stitches. 
4. Fidget Spinners
Fidget spinners are on this list for two reasons: they can be a fire hazard and they may contain unsafe amounts of lead.
Target recently recalled the Fidget Wild Premium spinners because they contained lead levels ranging from 520 parts per million (ppm) to 33,000 ppm. Children's toys cannot contain lead levels that exceed 100 ppm, according to the U.S. Consumer Product Safety Commission.
Even if your fidget spinner meets lead level requirements, it could be susceptible to catching on fire. Bluetooth-enabled fidget spinners have burst in flames while charging, causing the device to melt and burning surrounding surfaces.
5. Hoverboards
Another hot toy (literally) are hoverboards. Like fidget spinners, they can start fires while they are charging or even while they are in use. Hoverboards are powered by lithium-ion batteries, which can easily overheat. The liquid is highly flammable; if the battery short circuits, the electrodes can heat up so quickly that they cause the battery to explode.
In 2016, more than 500,000 hoverboards were recalled for this reason. Despite these recalls and a sense of panic as hoverboards caught fire on planes, on the street, and while charging overnight, the devices on the shelves this holiday season aren't necessarily safer.
Seven hoverboard models have been recalled just in the past month alone, covering 13,900 hoverboards. And this October, a LayZ Hoverboard caught fire in Pennsylvania, destroying one home and damaging four others.
If you must buy a hoverboard for someone this year, the Consumer Protection Safety Commission warns that they should meet the UL 2272 Safety Standard.
6. Smart Toys
More than 6.5 million children's accounts were exposed in the VTech electronics data breach.
If you thought the FBI had other things to worry about than your child's talking doll, think again. This summer, they issued a formal warning that smart toys—like the Furby Connect, the i-Que robot, Cloudpets, and Toy-fi Teddy—may pose a privacy risk if they don't require bluetooth authentication.
Toys that create personalized experiences for children often store personalized information and user data on easily breached networks, like children's names, birthdates, and even recorded conversations.
In Germany, parents were ordered to destroy the My Friend Cayla doll since it uses a hidden microphone to record conversations with children. Conversations are also stored on a website that uses an unsecured bluetooth connection which doesn't require a password to access. The doll is still sold in the U.S., but consumer groups have filed complaints to the Federal Trade Commission claiming that the doll violates the Children's Online Privacy Protection Act.
While ordering a toy to be destroyed may sound extreme, the VTech electronics data breach proved exactly what can go wrong when these toys aren't properly secured. In 2015, a hacker breached VTech's Learning Lodge database, which includes apps, games, e-books, videos, and music for children. More than 6.5 million children's accounts and 5 million parents were accessed, exposing their names, addresses, photos, messages, and more.
7. Laser Toys
Laser toys use highly-concentrated light which can injure eyes and even cause blindness.
It shouldn't come as too much of a surprise that pointing a laser at your eye can be dangerous. But just how bad can it be? More dangerous than staring at the sun.
Laser toys use highly-concentrated light which can injure eyes and even cause blindness, the FDA warns. These injuries aren't immediately noticeable since they don't cause pain, but eyesight will gradually decline, sometimes resulting in permanent damage.
Lasers can be found on popular toys like lightsabers, toy guns, and more. The FDA recommends that parents only purchase toys that have an IEC Class I label on them, which indicates they are safe for children's use.
Though they may look like toys, never buy laser pointers for kids. A study from the National Institute of Standards and Technology revealed that only 26 percent of laser pointers met industry safety standards.
8. Ride-On Toys: Scooters, Children's Vehicles, etc.
Ride-on toys (like scooters, tricycles, and motor-powered children's vehicles) were responsible for 43% of hospital admissions for children between 1990 and 2011. These injuries have only become more common since foot-powered scooters were introduced in 1999. Non-motorized scooters were responsible for 39,800 injuries in 2016.
It's up to parents to ensure their children are wearing helmets and other protective equipment. But sometimes, manufacturers design dangerous products that a helmet is no match for. The Tonka 12V Ride on Dump Truck was recalled last year after one of the trucks burst into flames on its way home from the store. 
9. Toys, Clothing, and Furniture with Flame Retardant Chemicals
Flame retardant chemicals have been linked to cancer, fertility problems, and decreased IQ.
Flame retardant chemicals are found in everything from electronics, furniture, clothing, carpet, toys, and car seats.
These chemicals are meant to prevent consumer goods from going up in flames, but long-term exposure to the chemicals may present health risks that outweigh the benefits. Long-term exposure can interfere with hormones, reproductive systems, and neurological development in children and infants.
The CPSC issued a warning in September to consumers to avoid purchasing products with organohalogens flame retardant chemicals. These chemicals have been linked to cancer, fertility problems, and decreased IQ.
Look for furniture labels that say "contains no added flame retardants," and avoid purchasing children's products that say they meet the California TB 117 flammability standard, since they likely have flame retardants.
10. Pressure Cookers
Pressure cookers are a decades-old kitchen favorite, and though they now come equipped with enhanced features, they can still be just as dangerous as before. Pressure cookers are susceptible to exploding unexpectedly, causing their hot contents to spew out.
Some models have been recalled because their airtight seals can unlock without warning. Others have had issues with their pressure release valves not working.
Without the ability to gradually release built up pressure, consumers are forced to remove lids from devices that are on the verge of exploding. When this happens, users can receive second- and third-degree burns which require hospital treatment.