Man Sues Samsung After Exploding Galaxy S7 Edge Causes 3rd Degree Burns
Published September 09, 2016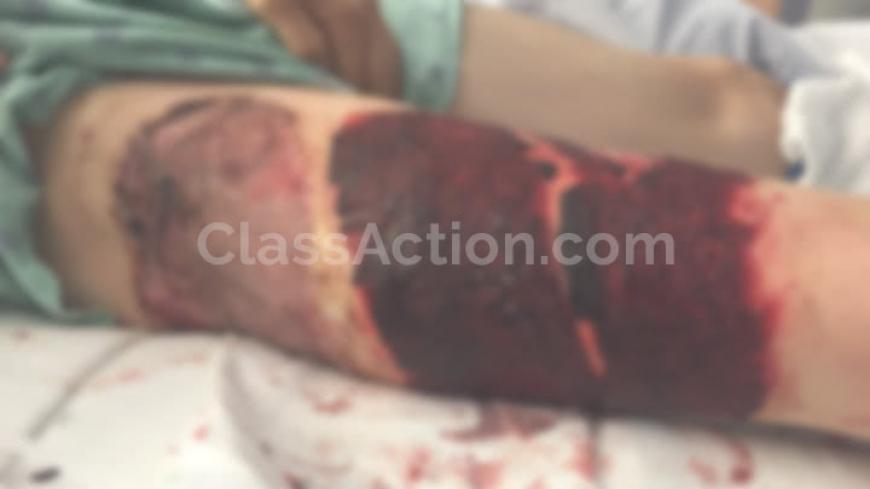 (WARNING: THIS POST CONTAINS GRAPHIC IMAGES)
Daniel Ramirez was working construction at a bookstore in Ohio when his Samsung Galaxy S7 Edge caught fire in his pocket, causing him second and third degree burns.
The May 30th incident occurred three months prior to Samsung's recent announcement that it is recalling 2.5 million Galaxy Note 7 phones due to a battery flaw that can result in fires.
ClassAction.com attorneys have filed a product liability lawsuit on behalf of Mr. Ramirez against Samsung--the first lawsuit to be filed over a Galaxy smartphone battery fire.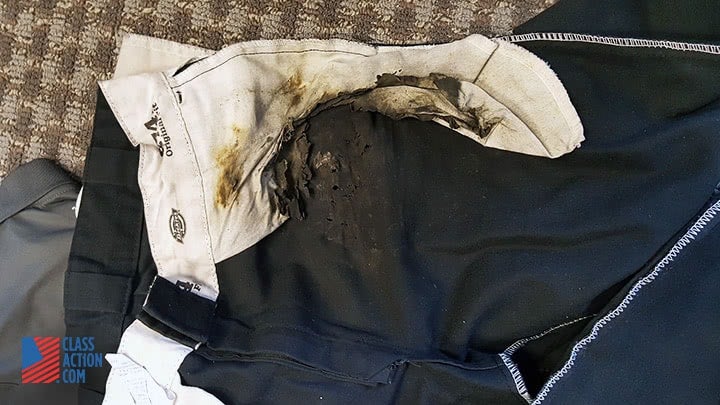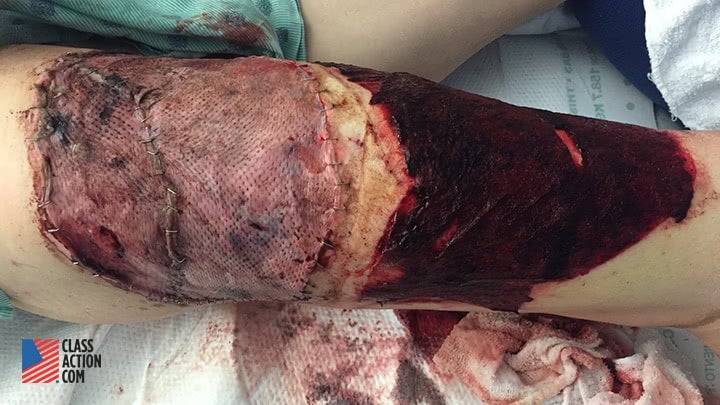 Although Samsung has yet to recall the S7 Edge, ClassAction.com is calling on the company to address the safety of S7 Edge batteries in light of the terrible injuries caused by at least one of their phones.
We are also encouraging anyone whose Samsung smartphone caught fire and caused burns to submit a free case review.
Battery Fires Prompt Recall, FAA Advisory
Samsung recalled its flagship smartphone, the Galaxy Note 7, on Friday, September 2 in ten countries, including the United States, just two weeks after the product launched.
On Thursday, September 8, the U.S. Federal Aviation Administration (FAA) strongly advised passengers not to use, charge, or even stow Galaxy Note 7 phones on domestic flights. Airlines in Australia and Singapore have gone a step further, forbidding passengers from using or charging the phones inflight.
An internal investigation by Samsung prompted by dozens of consumer complaints about phones catching fire revealed a battery flaw that affects an estimated 1 in 42,000 units.
"Came home from work, put [the Note 7] to charge a little bit before I had class. Went to put it on my waist and it caught fire."
"There was a tiny problem in the manufacturing process, so it was very difficult to figure out," Koh Dong-in, president of Samsung's mobile business, told reporters at a press conference.
Although no injuries have been reported in conjunction with Note 7 battery fires, close calls have been posted on social media.
A 34-year old South Korean teacher shared her story and an image of her burned phone on a popular online forum, according to the Associated Press, saying, "If the exploded phone had burned near my head, I would not have been able to write this post." Her charred phone allegedly filled the room with chemical smoke.
Korea's Yonhap News reported that within the first week of the Note 7 launching there were five claims of the devices exploding while charging.
In the United States, Note 7 owner Ariel Gonzalez shared a YouTube video of his scorched and melted phone, warning other users to "Be careful out there." Gonzalez says he "Came home from work, put [the Note 7] to charge a little bit before I had class. Went to put it on my waist and it caught fire."
Daniel Ramirez Injury Should Prompt Closer Look at S7 Edge
While Galaxy Note 7 owners have been fortunate to escape serious injury from battery fires, S7 Edge owner Daniel Ramirez was not so lucky.
A native of Tracy, California, Ramirez purchased his Galaxy S7 Edge at a Best Buy store in Modesto, California, on March 11, 2016. He was in Akron, Ohio for a construction project as part of his work for National Property Solutions Group (NPSG).
According to a lawsuit complaint filed by ClassAction.com attorneys, Ramirez placed his S7 Edge in his right front pocket on the morning of May 30, 2016 as he began work. Shortly thereafter he noticed his phone whistling, screeching, and vibrating, as well as smoke coming from his pocket.
As he reached into his pocket to remove the phone Ramirez suffered burns to his right hand. Without warning the S7 Edge exploded and caught fire while still in his pants pocket, causing his boxer shorts and pants to melt to his leg, leaving him with second and third degree burns. He suffered severe and permanent burn injuries to his groin, legs, and lower back that required a significant skin graft surgery and will necessitate extensive physical therapy moving forward.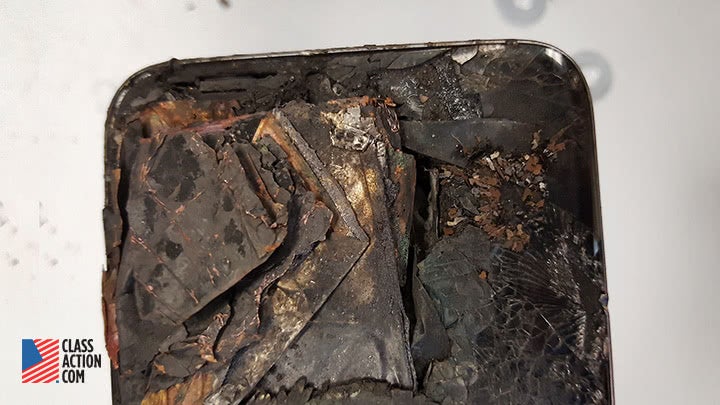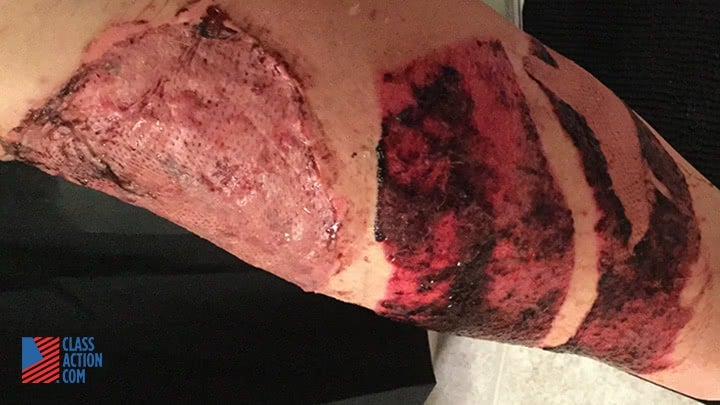 Only subtle design differences separate the recalled Galaxy Note 7 and Galaxy S7 Edge. The website Android Authority reports that the Galaxy Note 7 has a 3,500 mAh battery, compared to the 3,600 mAh battery used in the S7 Edge.
Samsung says that its SDI subsidiary makes the defective Note 7 battery. ClassAction.com has reached out to Samsung in an attempt to confirm whether the S7 Edge's larger battery is also made by Samsung SDI.
Lithium ion batteries such as those used in Galaxy phones have been the subject of controversy in recent years. The ubiquitous power supplies--which provide juice to everything from laptops and phones to cars and planes--have been implicated in fire and explosion events involving Dell notebooks, Boeing passenger jets, Tesla cars, hoverboards, and electronic cigarettes.
ClassAction.com Calls for Damages Amidst Samsung Galaxy Recall
Samsung has said that, as part of the Galaxy Note 7 recall, owners may swap their defective phone for a Samsung Galaxy S7 or Samsung Galaxy S7 Edge. But the injuries to Ramirez suggest that this is akin to swapping one exploding phone for another.
ClassAction.com expects Samsung to address the safety of its S7 Edge batteries in the coming days as news of Mr. Ramirez's horrific injuries circulates. In particular, we would like to know whether the manufacturing problem blamed for Note 7 battery fires also affects S7 Edge smartphones. If it does, an expanded Galaxy recall should be issued immediately to prevent further consumer harm.
To report a Samsung Galaxy that caught fire, and to learn your legal options, please submit a case review form.