Electronic cigarettes (aka "e-cigarettes" or "e-cigs") are battery-powered devices made to mimic traditional cigarettes.
Many e-cigs contain volatile batteries that have been known to explode, leading to lawsuits filed against manufacturers and retailers.
They are often shaped like cigarettes or pipes, and work by heating a nicotine mixture called "e-liquid," "e-juice," or "vape juice." The e-liquid vaporizes, and the user inhales, getting a buzz from the nicotine in the e-liquid. Smoking an e-cigarette is called "vaping."
Most e-liquids contain some combination of nicotine, glycerin, propylene glycol, and flavorings—which vary wildly. Many have been shown to contain formaldehyde, which is more commonly used in industrial-strength resins and embalming fluids. Some flavorings include diacetyl, which infamously causes "Popcorn Lung," a chronic, irreversible lung disease.
Many e-cigs contain volatile batteries that have been known to explode, leading to lawsuits filed against manufacturers and retailers. Our team has already filed several lawsuits against e-cig companies, and we will file many more in the days to come.
Are They Safer?
Though some studies suggest that e-cigarettes are a healthier alternative to regular cigarettes, they are such an unknown commodity that the jury is very much still out, data-wise. In fact, some research indicates that e-cigarettes could be more dangerous than traditional ones. Because they have only been on the market for about a decade, there is no research on their long-term effects.
Three out of four vapers also smoke, which debunks the myth that segueing to vaping allows people to quit. Moreover, there have been dozens of e-cigarette explosions in recent years due to the volatility of the lithium-ion battery—the same kind of battery found in exploding hoverboards and Samsung Galaxy phones.
The FDA started regulating the vape industry in August 2016, but prior to that there had been no federal oversight. Given that lack of regulation, the lack of research, the questionable ingredients, and the volatile batteries, it's hard to imagine that vaping is a "safer" form of anything.
A Brief History of E-Cigarettes
A Chinese pharmacist named Hon Lik invented the e-cigarette in 2003, after the idea came to him in a dream. It hit the market in China the next year and quickly amassed a small but loyal following. (Today, most e-cigarettes are still made in China.)
E-cigarettes reached the U.S. five years later, in 2009. While sales of conventional cigarettes declined every year between 2011 and 2014, e-cigarettes (not coincidentally) followed the opposite trajectory. In 2014 particularly sales soared, hitting the $3 million mark domestically and the $7 billion mark worldwide. E-cigs have proved especially trendy among young people: from 2013 to 2014, the number of middle and high schoolers who vape tripled.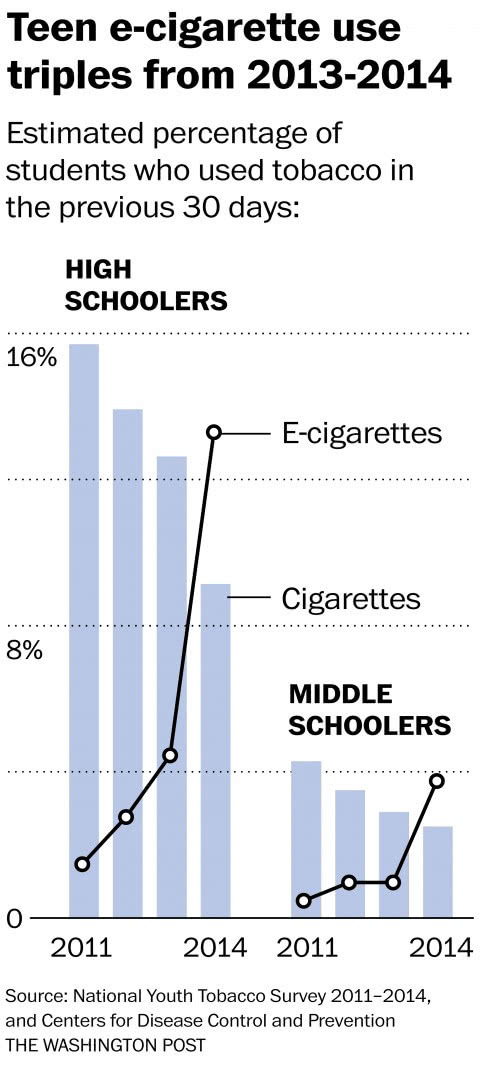 Today, one in ten Americans vapes. But with this widespread use has come increased scrutiny and serious questions about the health and safety of e-cigarettes (see next two sections). As a result, the FDA has vowed to begin regulating the industry in the near future. But some government bodies don't want to wait that long.
In March 2015, the state of Indiana voted to regulate the e-cig industry, banning sales to minors, requiring childproof caps, and enacting strict manufacturing safety standards. (Nine months later, a vaping advocacy group, along with several retailers and manufacturers, sued the state over the new regulations, which they deemed "unconstitutional.")
In September 2015, the District of Columbia voted to enact a 65% excise tax on all e-cigarette products, which some expected would tax vape shops out of existence.
In March 2016, a Vermont bill that would tax e-cigarettes like regular tobacco (at 92%) won preliminary approval from the House. (The bill's sponsor, Rep. George Till, says the bill would deter minors from buying e-cigarettes.) That same month, the Transportation Department banned e-cigarettes on all domestic and international flights that fly into or out of the United States.
Some experts have linked these new regulations and safety concerns with slowed growth in the industry, but sales are still expected to increase by 57% in 2016. This is "only" half of the e-cig industry's compound annual growth rate of 115% from 2010-2014.
On May 5, 2016, the FDA announced that it would begin regulating the e-cigarette industry in early August (giving companies 90 days to comply with new rules). The FDA also banned the sale of e-cigarettes to minors.
Popularity Soars, Especially Among Young People
With fun, colorful flavors like Bubble Gum, Cotton Candy, Cupcake, Graham Cracker, Marshmallow, Sour Apple, and Goblin Goo (among countless others), e-cig companies target children and adolescents in their marketing with devastating efficiency. From 2013 to 2014, the number of middle and high schoolers who vape tripled.
Across the board, e-cigarettes are exponentially more popular than they were ten years ago. It is now a $7 billion global industry made up of roughly 500 brands. (Some of the most popular brands include V2, Halo, VaporFi, and blu.) By some projections, e-cig sales could surpass conventional cigarettes' by 2022.
Health Concerns Over Ingredients
From September 2010 to February 2014, the number of e-cigarette-related calls to poison control centers skyrocketed, from just one call per month to 215. Over half the calls involved children under the age of five, many of whom had ingested the liquid nicotine found in the devices.
A January 2015 study in The New England Journal of Medicine determined that hidden formaldehyde in e-cigarettes makes the risk of developing cancer 5 to 15 times higher that of traditional cigarettes. Formaldehyde is most commonly used in industrial resins and as an embalming agent.
In December of last year, an Environmental Health Perspectives study found that many e-cigarettes do not disclose the presence of the flavoring chemical diacetyl, which has long been known as a respiratory hazard. Most infamously, diacetyl caused "Popcorn Lung" in microwave popcorn factory workers. (The name "Popcorn Lung" belies the fact that it is a serious, permanent affliction which sometimes requires lung transplants.) The study discovered diacetyl in 39 of the 51 flavors analyzed: nearly 80%.
The damning data grew this past February, when researchers found that e-cigarettes suppressed a whopping 358 immune genes—305 more than traditional cigarettes. These results suggest that e-cigs may render vapers more susceptible to disease, which is doubly troublesome given that they may also cause disease.
Violent Vape Explosions On the Rise
A rash of violent explosions and grisly injuries have also cast sizable doubt on the safety of e-cigarettes. One high-profile victim is soccer star Danny Califf, who played for ten years as a defender for the L.A. Galaxy, San Jose Earthquakes, Philadelphia Union, Toronto FC, and various European teams.
Mr. Califf's attorney, Greg Bentley, says his client has been horribly disfigured by an e-cigarette that blew up in his face in early 2016. Mr. Califf allegedly suffered a broken cheekbone and was concussed after the cigarette's lithium-ion battery shot through his cheek.
These types of explosions, and the gruesome injuries that result, are becoming a regular occurrence.
In February, an e-cigarette exploded in a Kentucky man's pocket while he waited in line at a Shell gas station. The man was rushed to the hospital with second-degree burns. Around the same time, a Naples (Florida) woman's car burst into flames after her e-cigarette exploded. That same month, Rachel Berven's e-cigarette exploded near her mouth, "ripping a hole in her mouth and spewing battery acid across her body."
In April, a 14-year-old Brooklyn boy named Leor Domatov was blinded in his left eye by an e-cigarette that exploded in his face. On Easter Sunday, an e-cig exploded in a New Hampshire restaurant, burning the hands and face of its owner and hitting "another customer in a nearby booth in the chest, burning part of his shirt and pants," according to the Sentinel Source. Shell-shocked witnesses described the explosion as a "fireball," or akin to a fireworks display.
In May, an Albany man's e-cigarette exploded in his face. In July, an Alabama teenager's e-cig exploded, firing a battery into a classmate's face. Later that month, a Michigan man's vape device exploded in his pocket, burning his legs.
The eruptions above—which involve the same kind of battery found in exploding hoverboards—are just the tip of the iceberg. There were at least 25 e-cig explosions between 2009 and 2014, at least a dozen more in 2015, and there have already been several in 2016. According to The Wall Street Journal, the FDA received 134 reports of vape-related fires and explosions from 2009 to January 2016.
As e-cigarettes' popularity grows, and as more people come forward, these numbers will only rise.
E-Cigarette Lawsuits
The myriad explosions and other health hazards associated with e-cigarettes have generated a flood of lawsuits against e-cig manufacturers. Our team has already filed several lawsuits against e-cig companies, and we will file many more in the days to come.
Side effects for eligible parties may include the following:
Burns, scarring, or other injuries from e-cig explosion
Popcorn Lung (coughing, shortness of breath)
Asthma
Chronic Bronchitis
Breathing problems
If you or a loved one has been injured by e-cigarettes, please contact us immediately to complete a free case review. Don't hesitate; these cases are time-sensitive, and you may be entitled to compensation.