#MedToo Movement Exposes Harassment in Healthcare
Published May 11, 2018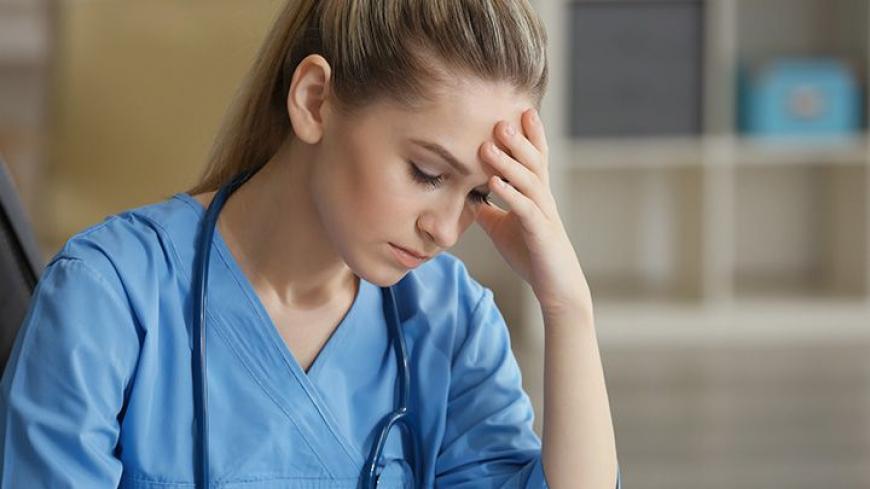 In 2017, for the first time ever, women outnumbered men entering medical school. Females made up 50.7% of new medical school students.
But, despite the fact that more women than ever before work in healthcare, a disproportionate number of females still experience sexual harassment.
The #MedToo movement hopes to change that. Inspired by the wider #MeToo movement, healthcare workers are sharing their stories of workplace harassment online in hopes of igniting change.
Research Shows Little Progress In Ending Harassment
59.4% of medical trainees and 69% of female emergency medicine residents reported sexual harassment.
Studies show pervasive sexual harassment across medical professions and seniority levels.
Some of the most vulnerable women are those who are still completing their medical training. A 2014 medical training survey found that 59.4% of trainees experienced sexual harassment, and 69% of female emergency medicine residents.
Sometimes, the perpetrator isn't in a white coat—it's a patient who creates a hostile work environment.  
This is particularly true for physical therapists. In a Journal of Physical Therapy survey published in August 2017, 84% of female physical therapists reported inappropriate patient behavior, like verbal sexual harassment, inappropriate touches, indecent exposure, and / or sexual assault. Nearly half of these women (47%) had experienced some form of harassment or assault within the past year.
84% of female physical therapists reported inappropriate patient behavior.
Even experienced medical professors report high levels of sexual harassment by colleagues and superiors. A 2014 survey published in JAMA found that 30% of women in the medical academic field experienced sexual harassment, compared to 4% of men.
Of those women who experienced harassment, 92% reported sexist remarks or behavior, and 41% reported unwanted sexual advances. About half of these women (47%) reported that the harassment negatively affected their career advancement—researchers believed that it was likely because they found other jobs.
Dr. Reshma Jagsi, director of the University of Michigan's Center for Bioethics and Social Sciences in Medicine, was one of the researchers who conducted the survey. She told NBC News that she had hoped the results would be "good news" and show more progress than they did.
Women Share Their Stories on Twitter
Women are now putting faces behind these alarming statistics by sharing their harassment experiences with the media and on Twitter using the hashtag #MedToo.
What's clear from reading many of their stories is that these aren't random occurrences, but incidents borne from a culture that favors hierarchy, seniority, and power—a toxic cocktail that allows discrimination and harassment to fester.
Dr. Nancy Baxter explained that the culture of medicine would have to drastically change in order to end pervasive sexual harassment:
Our #MedEd system is a set up for #metoo during medical school and training - we have a hierarchical structure, major negative career consequences for reporting, and a few apparent consequences for perpetrators. Our culture needs to change or #medtoo will continue. https://t.co/iTs9WmIHAu

— Nancy Baxter MD (@enenbee) February 17, 2018
New to the medical field herself, Ayesha Ali shared her #MedToo story on Twitter:
Oh my God, yes. I started 3rd year 3 months ago and I've kinda lost track of the number of times I've had to ignore 'casual' touches and remarks/jokes by patients and doctors alike just to avoid making a scene or getting labelled as THAT girl #metoo #medtoo #girlmedtwitter

— Ayesha (@_AyeshaAAli) February 3, 2018
The vulnerability of new healthcare professionals extends to patient interactions as well, as therapist Dr. Sheila Addison shared:
Mental health folks, we need to have this conversation. Our most green & vulnerable students treat some of the most acute clients. They're set up for harassment & abuse. Losing a clinical placement = getting behind in your degree, paying extra tuition to finish. #MeToo #MedToo https://t.co/1L3rX4PnhA

— Sheila Addison (@drsaddison) February 3, 2018
Researcher Dr. Jagsi agreed that the culture of medicine was partially to blame for sexual harassment incidents.
"I think that things can get pretty bad pretty quickly in medicine in a way that might not happen in other workplace environments as readily, because of seclusion and access to on-call rooms and the strong hierarchies and power differentials that are at play," she told NBC News.
What's the Role of Hospitals in #MedToo?
Sexual harassment makes up nearly half of the complaints the EEOC receives.
The best way to end a culture of harassment and assault is to expose it like the brave women of the #MedToo movement. Legal action is often an important step in this process.
Employers are legally required to take action if they know of harassment occurring in their workplace that violates Title VII of the Civil Rights Act of 1964.
If harassment is severe or frequent enough to create a hostile work environment, or there was a tangible employment action associated with the harassment (firing, demotion, reassignment, etc.), the employer may be held liable. However, if the employee never formally filed a complaint with management or Human Resources, and/or the employer can show they tried to prevent or correct the behavior, they may not be held liable.
According to the Equal Employment Opportunity Commission (EEOC), sexual harassment makes up nearly half of the complaints they receive. The EEOC investigates discrimination claims and enforces labor laws.
Many women have filed sexual harassment lawsuits against healthcare facilities and won verdicts or settlements. 
Annette Katz v. Cleveland Veterans Affairs Hospital

:

In 2018, the Cleveland V.A. Hospital agreed to settle sexual harassment claims filed by Annette Katz for $161,500. Ms. Katz alleged a colleague harassed her for years, and eventually physically assaulted her on work premises. Her employer denied her request to transfer to another facility, and fired her when she failed to show up to work one day despite suffering from PTSD.  

Chopourian v. CatholicHealthcareWest et. al

: In 2012, a California jury awarded a female cardiac surgery physician assistant nearly $168 million over allegations that she had been sexually harassed and physically abused by cardiac surgeons at Mercy General Hospital in Sacramento, California. The trial judge later reduced it to $82 million which was eventually vacated after both parties reached a confidential settlement.

EEOC v. Lutheran Medical Center:

In 2003, the Lutheran Medical Center in Brooklyn

agreed to settle EEOC claims filed over a physician who allegedly sexually harassed and assaulted at least eight female employees while conducting employment-related physical exams. The hospital agreed to pay $5.425 million to settle the claims.
What to Do If It Happens To You
If you are ever harassed or assaulted in the workplace, documentation is your best friend.  We spoke with Morgan & Morgan labor and employment attorney Angeli Murthy who offered these tips.
Document everything

: "Too often people come to us after they have complained verbally, and it is more difficult to prove that any retaliation they suffered was because of a complaint they made."

Speak to an attorney

: "Having an attorney look at your complaint before submitting it to Human Resources can help to eliminate unnecessary information, and make sure that your complaint is direct, clear, and concise—all traits that help to ensure that the company knows exactly the issue it is dealing with, which is helpful to both sides in properly addressing the issue."

Talk to Human Resources

: "If the practice or hospital has an HR department, use it! In writing. And keep a copy of your written complaint for yourself."
"The sad fact is that even though retaliation is unlawful, employers still engage in retaliatory acts, and we cannot promise that they won't, but unless and until the behavior is confronted and individuals are called to account for their improper behavior, nothing will change," said Murthy.
"We know it is a scary position to be in, but making sure the concerns are documented is a great start to safeguarding against retaliation, or, at the very least, putting yourself in the best position to challenge any retaliatory acts."
Do You Need an Advocate?
Like Attorney Angeli Murthy recommended, the first step in fighting workplace discrimination is to contact a plaintiff's employment lawyer. An attorney can help guide you through the process of lodging a formal complaint and pursuing a lawsuit if necessary.
Our attorneys work on a contingency-fee basis, meaning you pay nothing unless we win a jury verdict or settlement award for you. Contact us today for a free, no-obligation legal review.