What You Need to Know About Dicamba Damage
Published June 30, 2017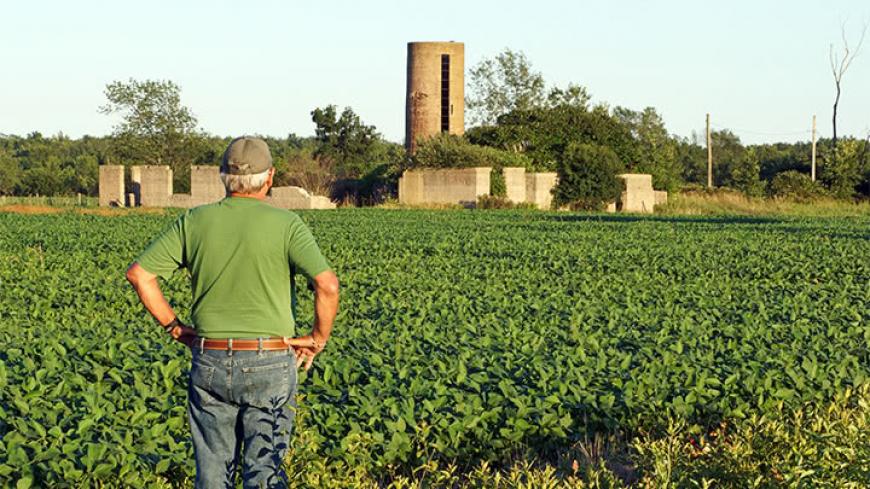 Dicamba has been making headlines lately, but unless you're a farmer living in Arkansas or Missouri, you may not know what it is. That's why ClassAction.com has put together this primer on dicamba damage—one of the most important issues impacting American farmers in 2017.
What is dicamba?
Dicamba is a highly volatile herbicide with a propensity to move onto off-site locations. Dicamba's brand names include Banvel, Diablo, Oracle, Vanquish, XtendiMax (a newer formulation made by Monsanto) and Engenia (a newer formulation made by BASF). According to the National Pesticide Information Center, more than 1,100 herbicide products contain dicamba.
Due to its volatility, until recently dicamba had not been approved for use on crops. But that didn't stop farmers from using it on Monsanto GMO crops that are resistant to both the weed-killer Roundup and dicamba. This has led to thousands of cases of dicamba volatilizing and moving onto neighboring farms, damaging non-resistant crops.
What is dicamba drift?
Dicamba drift occurs when a dicamba herbicide sprayed on one farmer's crops goes airborne and floats or drifts onto another farmer's land. This can be devastating because presumably the first farmer's crops are dicamba-resistant, while the second farmer's crops may not be. If this is the case, a huge swath of crops can be damaged.
Arkansas farmers have already filed more than 500 dicamba drift complaints in 2017.
More than 200,000 acres in Arkansas, Missouri, and Tennessee were damaged by dicamba last year. Farmers have already filed nearly 1,000 dicamba complaints in Arkansas this year.
Why did Arkansas vote to restrict dicamba use?
As dicamba misuse complaints continue to pile up, the Arkansas Agriculture Department's State Plant board voted on June 23 to adopt an emergency rule severely restricting the use of dicamba for 120 days. It is now considering banning it next year as well.
On Friday, June 30, Arkansas governor Asa Hutchinson approved the 120-day ban of dicamba. Governor Hutchinson also created a dicamba task force and approved raising the potential fines for herbicide misuse up to $25,000, from their previous max of just $1,000. He said that the hundreds of dicamba complaints demanded emergency action.
"According to the calls I've gotten from growers, there's a lot of suspected dicamba drift in the state."
Other states may take similar measures. Missouri voted to ban the herbicide, then replaced that all-out ban with restrictions. Tennessee banned older formulations of dicamba and imposed restrictions that give farmers just a seven-hour window (from 9 a.m. to 4 p.m.) each day in which to apply dicamba. Kansas, too, is investigating complaints of dicamba damage, and may take action to restrict its use.
What is Monsanto's role in the dicamba controversy?
Monsanto's Roundup has been the pesticide of choice for on-crop applications for several decades; approximately 90 percent of all U.S. soy, cotton, and corn are glyphosate-resistant genetically modified (GMO) crops.
"It's the irresponsibility of the agrochemical industry that led to this crisis, and yet farmers are the ones paying the price."
The widespread use of Roundup over many growing seasons has resulted in natural selection of weeds that are resistant to glyphosate's toxicity. These so-called "super weeds" have spread across the United States: 61 million farm acres—more than two-thirds of all the farm acres in America—now harbor glyphosate-resistant super weeds. In 2010, that number was just 32.6 million acres.
To address this issue, Monsanto invented new GMO crops that are resistant to both Roundup and dicamba. These crops were introduced to the market during the 2016 growing season, before any dicamba formulation received approval for on-crop applications. This led to widespread illegal spraying of older dicamba formulations, which led to dicamba volatilizing and moving, causing catastrophic crop damages.
Carey Gillam, an investigative journalist who has been covering agrochemicals for 20 years, tells ClassAction.com, "This costly and destructive situation was foreseen years ago when Monsanto and other chemical companies said the answer to the overuse of pesticides was the proliferation of more pesticides. It's the irresponsibility of the agrochemical industry that led to this crisis, and yet farmers are the ones paying the price."
Monsanto produces one of the newer dicamba formulations, XtendiMax.
Why are farmers filing dicamba lawsuits?
While local authorities have leveled some fines against farmers who misuse dicamba, these fines are often between $200 and $1,000—numbers that pale in comparison to the damage done by dicamba. According to Modern Farmer, farmers impacted by dicamba will lose an estimated 10 to 30 percent of their annual crop yield.
"The manufacturers of dicamba failed to ensure their products could be used safely, and farmers will pay the price at harvest."
Because these fines are so minimal, and because Monsanto and BASF are unlikely to face criminal charges, many farmers in Arkansas and neighboring states have filed lawsuits against Monsanto, BASF, and DuPont seeking restitution for the damage done to their crops.
ClassAction.com attorney Rene Rocha, who is pursuing dicamba lawsuits against the above companies, says:
Farmers know how devastating one bad year can be. This year, farmers have to contend not only with Mother Nature and unpredictable prices, but with faulty herbicides migrating from other farms and destroying their crops. The manufacturers of dicamba failed to ensure their products could be used safely, and farmers throughout the country will pay the price at harvest.
Mr. Rocha says his clients are seeking damages for destroyed crops and reduced yields.
If you or a loved one have suffered damages as a result of dicamba drift, please contact us today for a free legal consultation.