March Against Monsanto Protests Roundup Worldwide
Published May 25, 2017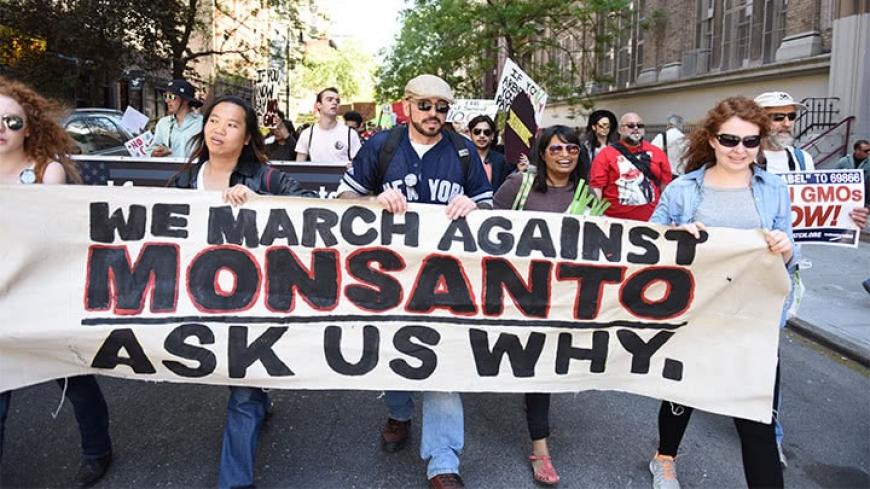 More than 200 cities worldwide participated in a March Against Monsanto on May 20, 2017. Thousands of protesters raised their voices and signs against the manufacturer of the most applied herbicide ever, Roundup.
Protestors marched to raise awareness of Roundup's possible effects on public health. Monsanto currently faces hundreds of lawsuits which allege the weed killer is a carcinogen.
A Facebook Page Starts a Worldwide Movement
Tami Canal, a concerned mother of three, founded March Against Monsanto after California's Proposition 37 failed to become law in 2012. If passed, the bill would have required a label on all GMOs.
As the world's largest producer of genetically modified seeds—seeds which are specially designed to resist Roundup Weed and Grass Killer—Monsanto had a right to be concerned about the ballot measure. They were the largest contributor to the Prop 37 campaign, spending more than $8 million to kill it.
From that loss grew a worldwide movement that started from a simple call to action on Facebook to protest Monsanto's impact on the world's food supply. Canal's social media campaign quickly grew into an annual march across cities as diverse as New York City, Brussels, and Accra, Ghana.
"It is important to march and get out in the streets to educate our communities on Monsanto's many crimes against humanity."
"It is important to march and get out in the streets to educate our communities on Monsanto's many crimes against humanity," Canal told us.
The 2017 March Against Monsanto drew support from consumer advocacy groups around the world, including the Organic Consumers Association and Moms Across America.
Zen Honeycutt, Moms Across America founder, told us that the march offered a way for the organization to stand up to Monsanto.
"Getting out and gathering in mass is the first step in letting our politicians and corporations know that we will not put up with their corruption," she said.
Roundup was Enemy No. 1 at the 2017 March
"How much of the cancer epidemic are Monsanto and the EPA directly responsible for?"
While protesters had plenty to march against, including Monsanto's impact on the environment and small farmers, the special focus of this year's march was the herbicide Roundup.
Roundup, which is made predominantly from the chemical glyphosate, is linked to non-hodgkin's lymphoma and has been declared a "probable carcinogen" by WHO's International Agency for Research on Cancer (IARC).
The questionable safety of the herbicide combined with allegations that Monsanto purposely covered up its safety data made it enemy number one this year, Canal told us.
It is not only used on the majority of the conventional food supply, but Monsanto's weedkiller has also been discovered in the air and rain, breast milk of nursing mothers, prenatal vitamins, and childhood vaccines.
In a class action lawsuit currently happening in San Francisco, it has been revealed that Monsanto and the EPA have conspired for almost four decades to hide the truth of Roundup's extreme carcinogenicity from the public. Cancer affects one in two men and one in three women. How much of the cancer epidemic are Monsanto and the EPA directly responsible for?
The lawsuit Canal refers to unearthed internal documents that showed a cozy relationship between the former manager of the EPA's pesticide division, Jess Rowland, and Monsanto. In one document, Rowland refers to another department's glyphosate review, claiming, "If I can kill this, I should get a medal."
But despite these damning accusations, Monsanto referred to last week's protests as a simple difference of opinion.
"We know people have different points of view on these topics, and it's important that they're able to express and share them," Monsanto said.
It's Not Just Monsanto; It Was a March Against Big Ag
Basel, Switzerland was host to one of the largest March Against Monsanto events. The march and street fair united thousands of protesters against Monsanto and Basel-based Syngenta.
"We consider Syngenta the twin of Monsanto."
Syngenta is the largest producer of pesticides worldwide, and the third largest manufacturer of genetically modified seeds. They manufacture atrazine, an herbicide with a reputation that could rival Roundup's.
Atrazine, which is banned in the E.U. but still heavily sprayed in the U.S. midwest, has been linked to birth defects. California just labeled atrazine as a carcinogen under their Prop 65 law. Despite a lawsuit from Syngenta, atrazine will have to carry a warning label starting July 2017.
Because of the similarities between the companies, it is no surprise that Basel didn't just march against Monsanto—they marched against Syngenta, too.
#MarchAgainstMonsanto #MarchAgainstSyngenta in Basel. pic.twitter.com/6pVNYYX58C

— gundelicieux (@gundelicieux) May 20, 2017
"We consider Syngenta the twin of Monsanto," Basel's organizers told us.
They were inspired to organize after the Basel government invited Syngenta to represent the city at Milan's controversial "Feeding the Planet" world exposition. Critics accused the exposition of failing to address corporate power and gross inequalities associated with the world's food supply.
"This was the starting point for the movement," they said in an email statement. "Our march led through the city to the headquarters of Syngenta."
Hold Monsanto Accountable
ClassAction.com's attorneys are taking the Monsanto fight to the courtroom. If you or a loved one were diagnosed with cancer after using Roundup, you may be eligible for a lawsuit. Contact us today for a free legal review.