The Patient Advocacy Groups that Accept the Most Big Pharma Money
Published July 02, 2018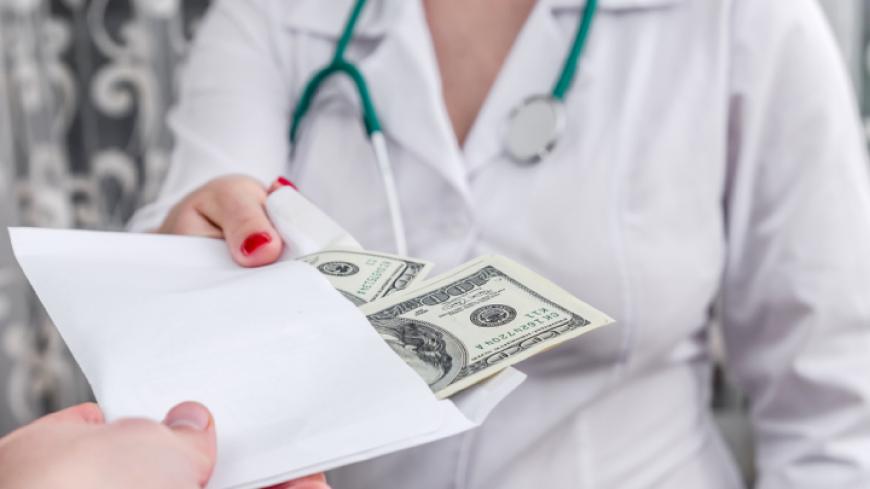 Eight out of ten patient advocacy groups accept money from drug and medical device companies. Are these good natured corporate donations, or just another way that Big Pharma exerts their influence beyond corporate walls?
Pharmaceutical donations make up more than half of the yearly income of some patient advocacy groups.
That question isn't an easy one to answer. But the first step in understanding how large of a role pharmaceutical companies play in organizations like the American Diabetes Association or the American Heart Association is to follow the money.
Pharmaceutical donations make up more than half of the yearly income of some patient advocacy groups, according to a 2017 study published in the New England Journal of Medicine. But because there are few reporting policies, it is hard for the public to determine whether or not corporate donations may be affecting the credibility of the patient groups they rely on and donate to.
Kaiser Health News wants to change that. Their Pre$cription for Power database compiles all of the donations patient groups receive from pharmaceutical and medical device companies. We took a closer look at the patient groups that received the most corporate donations.
Patient Access Programs That Accept Most Pharma $ 
1) Patient Access Network Foundation (PAN):
$31,407,500 
Mission: PAN offers patients grants to help them afford medication for 55 different diseases.
Largest donations:
Pfizer

—$16,870,000

AbbVie

—$14,537,500
2) Patient Advocate Foundation (PAF)
: $13,953,440
Mission: PAF helps patients resolve health insurance, medical debt, and employment issues related to their illnesses.
Largest donations:
Eli Lilly and Co.

—$9,500,000

Pfizer Inc

.—$3,290,000
3) Healthwell Foundation
: $7,475,000
Mission: Healthwell Foundation provides financial assistance to help cover co-pays, premiums, deductibles, and out-of-pocket medical expenses.
Largest donations:
Bristol-Myers Squibb

—$6,425,000

Merck & Co.

—$1,000,000
4) The Assistance Fund Inc.:
$2,150,000
Mission: The Assistance Fund offers advanced therapies, education, and financial aid for critically and chronically ill patients.
Largest donations:
Donating Money Instead of Lowering Drug Prices?
Patient access programs, or drug access programs, help underinsured patients pay for the medications they need. Typically, patients must meet stringent income requirements in order to qualify for funding through a drug access program, so the pool of patients that these programs actually help is fairly small.
The majority of drug access programs are funded directly by drug manufacturers, but these donations are far from being altruistic. Instead of lowering drug prices and solving the need for drug access programs entirely, drug companies often donate money to these nonprofits. The donations provide good PR for drug companies while helping ensure that drug prices (and profits) stay high.
Patient Advocacy Groups That Accept Most Pharma $  
1) Conquer Cancer Foundation of ASCO
: $4,895,725
Mission: The Conquer Cancer Foundation funds breakthrough cancer research, and provides cancer patients and the medical community with knowledge and resources.
Largest donations:
Pfizer—$2,060,000

: Pfizer's cancer drugs include

Ibrance, Sutent, Xalkori, and Inlyta.

Eli Lilly and Co.—$978,000

: Cancer drugs include Alimta, Cyramza, Erbitux, Gemzar, Lartruvo, Portrazza, and Verzenio.
Top donors Pfizer and Eli Lilly are among the top 10 largest oncology drug manufacturers, making it no surprise why they would want to support a cancer foundation. Fellow donors Merck, Bristol-Myers Squibb, Johnson & Johnson are also among the top 10 cancer drug companies.
2) American Diabetes Association:
$3,856,993
Mission: The ADA seeks to help prevent and cure diabetes and improve the lives of people affected by the disease.
Largest donations:
Eli Lilly and Co.—$2,924,403:

 Eli Lilly's diabetes drugs include insulin and non-insulin drugs like Humalog, Humulin, Jardiance, and

Byetta

—now sold by Amylin.

Johnson & Johnson—$386,595:

 Sells glucose meters.

Merck & Co.—$317,000:

Diabetes drugs include Januvia, Janumet,

Kombiglyze XR

, and

Onglyza

.
The American Diabetes Association (ADA) has a history of accepting money from questionable donors. They came under fire for accepting money from sugary food companies like Coca-Cola and Cadbury Schweppes, the manufacturer of Dr Pepper and cadbury eggs. In exchange for Cadbury's $1.5 million donation, the company received permission to use ADA's label on their diet drinks.
Taking money from corporations with poor reputations is one thing, but some critics argue that these donations may create a conflict of interest for the ADA.
The ADA recommended the drug Jardiance for people with type 2 diabetes and cardiovascular disease in their type 2 diabetes guidelines for 2017. These recommendations, critics point out, certainly benefit ADA's largest donor and manufacturer of Jardiance: Eli Lilly.
This isn't the first time the association's recommendations and guidelines have ultimately benefited drug companies. In 2003 and in 2010, they lowered the guidelines for prediabetes (a precursor to type 2 diabetes), meaning that more people were considered to be prediabetic and likely to take a medication to help regulate their glucose levels.
The U.S. has one of the lowest prediabetes benchmarks of any other country. Based on their guidelines, one in three Americans (86 million people) have prediabetes. The ADA and the CDC have called it a public health crisis, and certainly the climbing obesity rates in the U.S. are a concern. But, some groups, like the American College of Physicians, have argued that the guidelines are too aggressive, and that they may cause some patients to unnecessarily take medication when lifestyle changes are more appropriate.
3) Arthritis Foundation
: $3,271,214
Mission: The Arthritis Foundation helps patients conquer everyday battles by providing information and resources, access to optimal care, advancements in science, and community connections.
Largest donations:
AbbVie—$1,567,000:

 AbbVie sells autoimmune disorder drug Humira—the

highest-grossing drug in the U.S.

Bristol-Myers Squibb

—

$855,650

: Sells autoimmune disorder drug Orencia.
4) American Heart Association
: $3,259,054
Mission: Helps provide appropriate cardiac care in an effort to reduce disability and deaths caused by cardiovascular disease and stroke.
Largest donations:
Bristol-Myers Squibb—$1,964,300:

 Bristol-Myers Squibb sells popular blood thinner Coumadin (warfarin), and co-markets blood thinners

Eliquis

and Plavix.

Abbott Laboratories—$432,525:

Sells cardiovascular medical devices, like coronary stents.
Similar to the ADA, the American Heart Association (AHA) has been questioned for publishing health guidelines that seem to favor drug companies. In 2017, they lowered what they previously considered to be "healthy" blood pressure levels, resulting in the number of patients considered to have mild hypertension to increase by 26.8%.
A 2014 study published in the journal BMJ showed that treating prehypertension with medication is often ineffective and unnecessary. Given these results, the AHA's guidelines do not appear to benefit Americans, but rather, the AHA's pharmaceutical donors who will likely see a boost in sales.
5) Crohn's & Colitis Foundation Inc.:
$3,125,271
Mission: The Crohn's & Colitis Foundation provides research, education, and support for patients with IBD (Crohn's disease and ulcerative colitis).
Largest donations:
AbbVie—$2,735,395:

 AbbVie sells autoimmune disorder drug Humira.

Johnson & Johnson—$342,662

: Sells autoimmune disorder drug Stelara.
6) AIDS United:
$2,339,500
Mission: AIDS United seeks to "end the AIDS epidemic in the United States."
Largest donations:
Bristol-Myers Squibb—$1,200,000

: In 2015, Bristol-Myers Squibb's HIV antiviral drug Reyataz made $1.14 billion in sales, and HIV antiviral drug Sustiva earned $1.25 billion. The company has since sold them both.

Johnson & Johnson—$881,500:

Janssen, a Johnson & Johnson subsidiary, has an HIV preventative vaccine in clinical trials. They came under fire when they refused to participate in a United Nations patent pool whose mission is to reduce prices and increase access to HIV drugs worldwide.

Gilead—$250,000

: Gilead is the leading manufacturer of HIV drugs worldwide, selling

tenofovir disoproxil fumarate (TDF

) antiretroviral drugs—Truvada, Viread, Atripla, Complera, and Stribild—and tenofovir alafenamide fumarate (TAF) drugs—Odefsey and Genvoya.
Gilead was the top corporate donor in the country in 2015, donating nearly $500 million just to patient access groups. These donations came right before a wave of bad press over the price hikes of their HIV TDF drugs. Critics claimed the price hikes were an attempt to get patients to switch to their new TAF drugs.
Our attorneys are now investigating allegations that the company withheld TAF, a drug that may not have the same risk of kidney and bone injuries as TDF, in order to maximize their profits.
Donations In Lieu of Lobbying?
These relationships are sometimes more than simply financial: 40% of patient advocacy groups have pharmaceutical executives on their boards who likely help shape group guidelines and policies.
If their relationships with the patient advocacy groups are strong enough, drug companies can leverage a large network of patients and families to help support clinical trials and development of new drugs. It's no wonder why in 2015, pharmaceutical companies gave more in donations to patient advocacy groups than they spent on lobbying.
In 2015, pharmaceutical companies gave more in donations to patient advocacy groups than they spent on lobbying.
While these groups rely on donations to help and advocate for patients, relying on pharmaceutical companies for a significant part of their income can come at a price. Patient advocacy groups have been criticized in the past for not doing enough to speak out against drug pricing issues, like the skyrocketing price of epipens.
When patient advocacy groups do feel the need to speak out and testify to Congress or petition the FDA, these conflicts of interest are rarely disclosed. In fact, only 12% of these groups have policies for managing conflicts of interest. Some advocates believe that donations made to patient advocacy groups should meet disclosure requirements, similar to the Sunshine Act for physicians.
Until then, the public can consult websites like Pre$cription for Power and Pharmed Out, a website that lists patient advocacy groups that don't accept donations from drug companies.
If you or a loved one were injured by a drug or medical device, learn about ongoing lawsuits against some of the largest pharmaceutical companies and drugs.