Samsung Galaxy Owners Swap One Exploding Phone for Another
Published September 14, 2016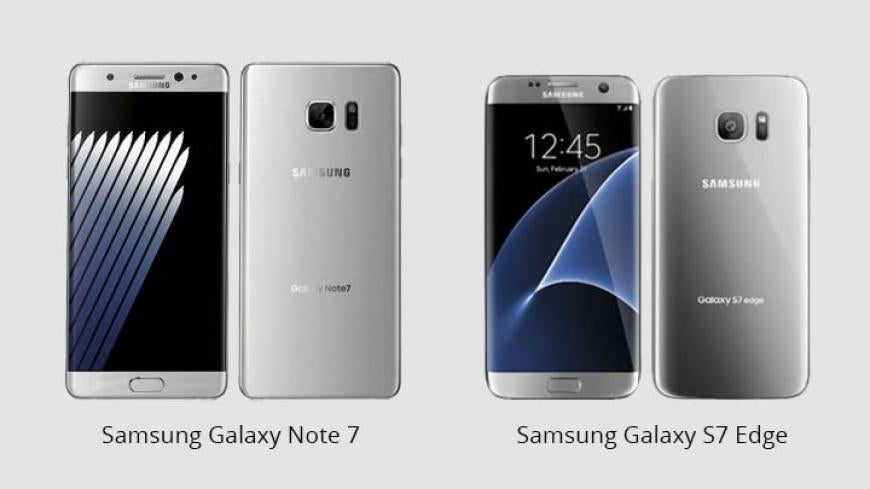 Is Samsung taking its exploding battery crisis as seriously as it should?
It's a fair question after the South Korean electronics maker failed to issue an official CPSC (Consumer Product Safety Commission) recall of the phone despite 70 reports of the Galaxy Note 7 catching fire.
Samsung has also offered the Galaxy S7 Edge as a replacement for the Note, even though an exploding S7 Edge recently caused severe burns to a California construction worker, blew up in a UK teacher's hand, and caught fire while charging in a Korean man's room.
Samsung has told its customers that "your safety is our top priority," but the company's actions tell a different story.
Note 7 Recall Falls Short of CPSC Guidelines
Samsung, reacting to 35 reports of the Galaxy Note 7 bursting into flames while charging, announced on Friday, September 2 that it had stopped Note 7 sales and would issue replacements for Note 7s already purchased.
The number of explosive Note incidents has since doubled to 70.
The move by Samsung was widely hailed as a "recall," but as Consumer Reports pointed out, it was not an official recall. An official recall would have involved the Consumer Product Safety Commission and made it illegal to continue selling the Note 7.
CPSC recall protocol mandates that the company take immediate and comprehensive action to notify consumers who own the defective product. This would require Samsung to contact all affected consumers directly, which it has failed to do.
The CPSC expects a manufacturer to issue an official recall if the product in question "contains a defect which could create a substantial product hazard" or "creates an unreasonable risk of serious injury or death."
A phone that can unexpectedly burst into flames seems to meet both of these criteria.
The CPSC announced on September 9 that it was working with Samsung to formally announce a Note 7 recall. In the meantime, though, many owners of the fire-prone phones may not be getting the message.
What's worse: the Note 7 is not the only Samsung model with battery issues.
Galaxy S7 Edge Causes 3rd Degree Burns
As part of its Product Exchange Program, Samsung is offering all Galaxy Note 7 owners a replacement phone free of charge. Incredibly, one of the replacement options is a Galaxy S7 Edge—a device with its own explosive tendencies.
ClassAction.com attorneys recently filed a lawsuit on behalf of Daniel Ramirez, a California man who was working in Ohio when his S7 Edge caught fire in his pocket, causing second and third degree burns to large portions of his lower body. Mr. Ramirez has since undergone multiple skin grafts and will require extensive physical therapy moving forward.
Earlier this week, a 30-year-old UK woman named Sarah Crockett experienced a similar (though less physically scarring) shock when her own S7 Edge became overheated and started smoking in a crowded cafe. The incident was caught on CCTV, refuting Samsung's claims that Ms. Crockett must have been charging her phone when it caught fire.
Like Mr. Ramirez's phone—and a Korean man's whose S7 Edge caught fire while charging—Ms. Crockett's phone was charred beyond recognition.
In response to Ms. Crockett's story, a Samsung spokesperson said, "There are no known safety issues with Galaxy S7 devices."
The company is trying to downplay the battery issue and make it seem unique to the Note, but recent events suggest otherwise.
Could the S7 Edge Have Same Flawed Battery?
While Samsung has sold just two million Galaxy Note 7s, it sold 13.3 million Galaxy S7 Edges in the first half of 2016 alone. This, coupled with the Note-for-Edge exchange, makes it extremely likely that many more instances of flaming Edges will arise in the coming weeks and months.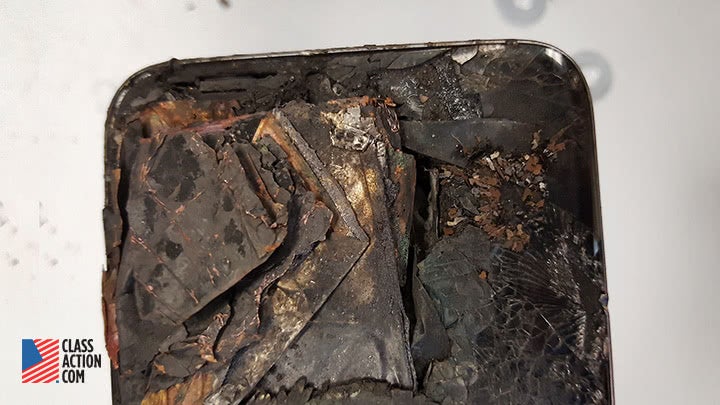 The S7 Edge is one of the best reviewed Android phones of all time, and as of August 2016 it was the most popular phone in the world.
It is not only one of the phones for which consumers can swap out their Notes, but the subject of many promotional giveaways (here and here, for example).
Unfortunately, the Note has received all the attention for its battery defects while the Edge (among other models) has flown under the radar. And without an official statement from Samsung concerning the S7 Edge, consumers may lack crucial information about the device.
ClassAction has reached out to Samsung to determine whether its Samsung SDI subsidiary, which makes the battery blamed for Galaxy Note 7 fires, also makes the S7 Edge battery.
Samsung has not responded to our calls and has refused to comment on the Daniel Ramirez lawsuit.
Samsung Has Lost $26 Billion and Counting
In most instances of a battery that catches fire, Samsung has just offered a free replacement phone to the affected party.
A quick Google or Reddit search turns up several phone fires involving the Galaxy S series. In the bulk of these cases, Samsung blamed user error or a faulty/off-brand charger and simply replaced the phone to avoid costly litigation.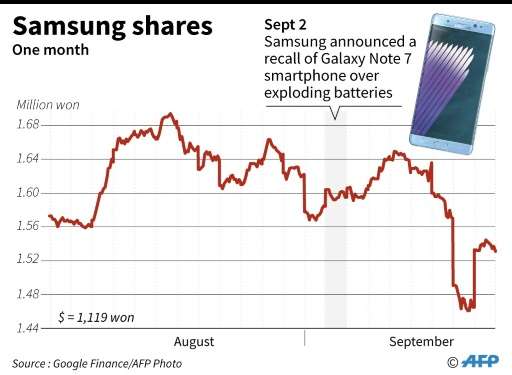 But now, with the Note 7 and S7 Edge stories gaining traction and these explosive videos going viral, the true scope of this issue is coming into focus—and it is frightening.
As more and more consumers come forward and file lawsuits, Samsung may be forced to acknowledge its design and manufacturing flaws. In time, Samsung may even have to issue official recalls of the Note 7, the S7 Edge, and other models.
Samsung has already lost $26 billion in value as a result of its volatile batteries. But the way things are going, that could be the tip of the iceberg.
Report a Galaxy Phone Fire
ClassAction.com will continue to bring consumers the latest breaking news about the Galaxy Note 7, the Galaxy S7 Edge, and any other Samsung phones that catch fire.
If your phone burned you, caught fire, or exploded, please contact us immediately to explore your legal options and hold Samsung accountable.