Samsung's Exploding Washers Leave Consumers Rattled
Published December 07, 2016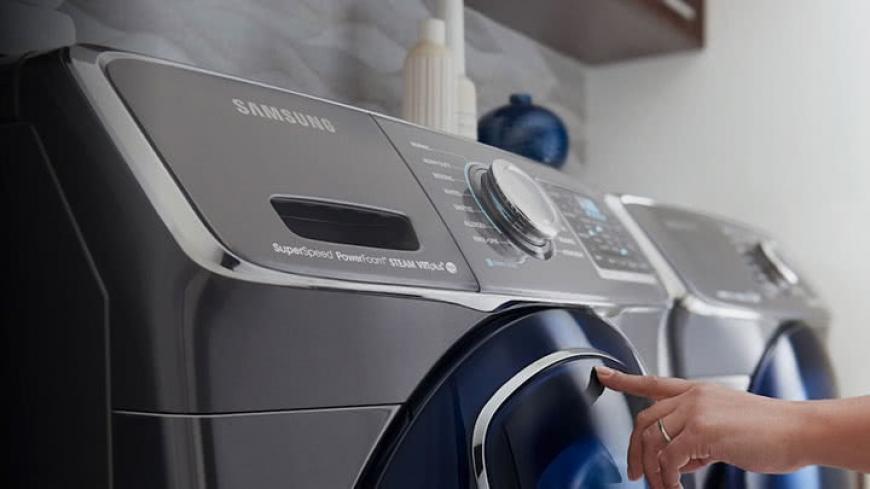 At this point, the word "Samsung" is almost synonymous with "explosive."
Samsung has received 733 reports of the washers malfunctioning.
Right on the heels of its massive Samsung Galaxy fiasco, last month the Korean electronics giant recalled nearly three million washing machines over hundreds of reports of the machines vibrating excessively and even firing their tops off.
The recall—which Samsung announced more than a month after the Consumer Product Safety Commission (CPSC) warned consumers of the washer risks—impacts 34 models encompassing 2.8 million machines. (For a full list of affected models, see the official CPSC page.) Samsung says it has received 733 reports of the washers malfunctioning, and at least nine reported injuries.
The CPSC page says injuries include "a broken jaw, injured shoulder, and other impact or fall-related injuries."
Though the recall offers consumers either a free in-home repair or rebate to be used toward a new washer, many aren't satisfied with Samsung's response.
Consumers Get "Market Value" for Broken Machines
Unless a consumer purchased a washer after October 6, 2016, he or she has two options:
(1) A free in-home repair of the busted machine, which includes a one-year extension of the product's warranty, or
(2) A rebate applied to the purchase of a new machine, plus a free installation of that machine and free removal of the old one.
At first glance, this sounds like an okay deal (especially #1). But many consumers have complained about delays in their machine repairs, or not even being able to reach Samsung.
Meanwhile, the rebate in the second option will be for the broken washer's "current market value," which naturally will be much lower than it was upon purchase. (Washing machines are like cars: their values plummet as soon as you take them home.)
So, Samsung is offering consumers either a partial refund/rebate for a defective machine that Samsung produced and marketed—or, a repair that has been plagued by delays.
It's no wonder so many people are heading to court to hold Samsung accountable.
Samsung Faces Multiple Class Action Lawsuits
Way back in March, Suzann Moore and Michelle Soto Fielder filed a class action lawsuit against Samsung, alleging that their washers blew their tops. Ms. Moore said that after two uneventful years, her machine "violently exploded" in December 2015.
The complaint, filed in New Jersey (where Samsung U.S.A. is headquartered), also contends that Ms. Fielder's machine blew up in February 2016 "with such ferocity that it penetrated the interior wall of her garage." As with Samsung's Galaxy phones, there are numerous YouTube videos that appear to show these devices post-explosion.
In the town of Trail, British Columbia, a man filed a lawsuit against Samsung not over physical damage or injuries, but because allegedly the rebate offered by Samsung fails to fully compensate consumers.
For example, a woman who joined the Canadian lawsuit, Brandy Robertson, received only a $410 rebate for a machine that originally cost her $900. Ms. Robertson also said she had to pay a $200 delivery fee for the new machine.
She told CTV News in Vancouver, "They should be replacing full cost of the top loaders… I think they are making money off of their recall."
If you or a loved one have suffered physical or financial damage because of a faulty Samsung washing machine, contact us today to learn your rights.