Product Liability Lawsuit
Product liability is the area of law that deals with defective products and the harm they cause.
The United States is a consumer-driven economy. Americans spend more than $10 trillion annually on consumer goods ranging from essentials such as food and transportation to non-essentials like tech and luxury goods. Consumer spending makes up 70% of our gross domestic product (GDP).
Consumer products are expected to enhance our quality of life, and most do. Some products, however, don't meet expectations. Beyond not working correctly, these products may contain defects that cause injuries and property damages.
Consumers bring tens of thousands of product liability cases each year, both individually and as class action members. Payouts can be huge (although many are quite modest). Equally important, defective product lawsuits are mechanisms for reducing product risks.
Consumer products are a part of life, but that doesn't mean defective products are acceptable. If you've been injured by a product, the product might have a known flaw and a lawsuit may already be in progress. Contact us to learn your rights.
About Product Liability Law
A product defect alone doesn't create manufacturer liability. In order to bring a product liability lawsuit, a user must have suffered an injury. This primarily means physical harm, but it can also include property damage.
Consumers may also join together and bring a class action lawsuit for non-injury claims. These claims typically seek monetary recovery for product defects resulting in diminution in value (the difference in value between the defective product and the intended product), or for fraudulent price inflation based on product misrepresentations (i.e. an "all natural" product that consumers pay a premium for which actually contains non-natural ingredients).
Hold Manufacturers Accountable
Class action lawsuits over similar injuries suffered by numerous plaintiffs are also possible, but such cases are more likely to result in a mass tort.
The number of product liability lawsuits has increased dramatically over the years. Product liability cases filed in federal courts alone jumped from 1,579 in 1974 to 13,554 in 1985 to 94,960 in 2012-2013 (one in every six cases).
In 2014, the average product liability jury award was more than $5.2 million—an amount far higher than other liability types.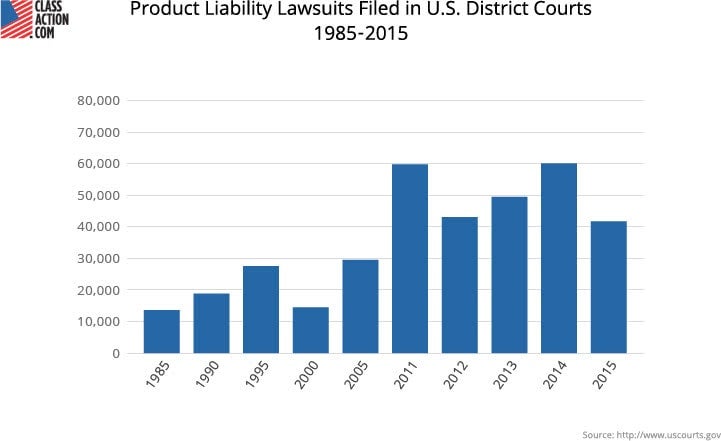 Potential Defendants
Anyone injured by a defective product may file a lawsuit.
Product manufacturers are the most obvious—but not the only—defendants in product liability cases. The typical product liability claim names more than one defendant. Liability for a product defect could rest with any party in the product's distribution chain, including:
Manufacturer
Component-part supplier
Materials supplier
Assembler
Wholesaler
Retailer
Repairer
Healthcare professionals (in drug and medical device injury cases)
In addition, the person filing the product liability lawsuit need not be the original product purchaser. Anyone injured by a defective product—including family members, friends, bystanders, those who lease the product or hold it for the initial purchaser, and even used product users—may file a lawsuit.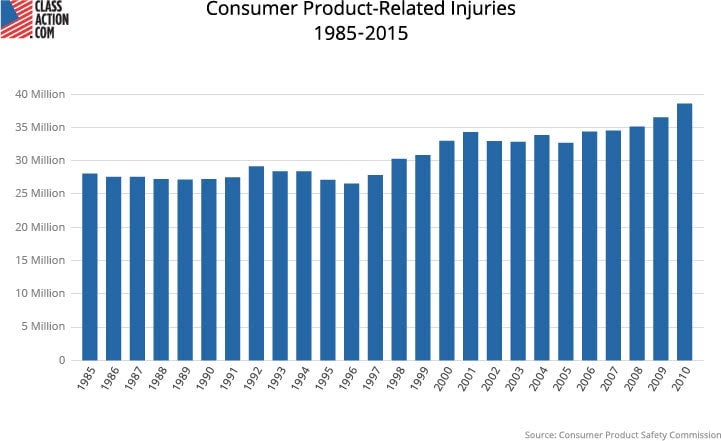 Legal Theories
Product liability claims are based on state laws. There is no federal product liability law. While states generally recognize the same causes of action, differences in state law affect which specific statutes are invoked in product liability claims.
In most jurisdictions, product liability cases are based on three legal theories. A plaintiff needs only one theory on which to recover damages, but asserting more than one theory is the norm.
Negligence
A product defect case based on negligence requires showing that the defendant (e.g., the manufacturer, supplier, or seller) owed the user a duty of reasonable care based on the circumstances, and that the defendant's breach of this duty resulted in user harm.
Typically, companies have a duty to supply product users with a safe and non-defective product. The fulfillment of this duty varies along the distribution chain. For example, a manufacturer might have a duty to properly design the product, while a supplier has a duty to provide non-defective materials, and a seller has a duty to inspect the product.
Strict Product Liability
Strict liability is a legal doctrine that allows an injured product user to sue and recover damages without proving negligence.
In other words, an injury-causing defect is itself sufficient evidence of a company's liability, regardless of fault. However, this isn't the same as automatic liability. Establishing a defendant's strict liability requires proving that: (a) the product was defective; and (b) the product defect caused the injury. If the plaintiff's own carelessness or actions caused the injury, the defendant may be off the hook.
Three types of product defects apply in strict liability cases: manufacturing defects, design defects, and marketing defects (failure to warn).
Manufacturers, distributors, and retailers all can be sued for strict liability, although many states protect retailers from strict liability.
Breach of Warranty
A warranty is an assertion that a product will meet certain quality, safety, and performance standards. Most products are covered by a warranty, of which there are two types: express and implied.
Breach of warranty claims fall under contract law (rather than tort law) and are governed by the Uniform Commercial Code (UCC), which has been adopted in every state. While not strictly necessary for the plaintiff's recovery of damages in a product liability claim, a breach of warranty claim often allows a plaintiff to learn more about a product and thus serves a tactical purpose.
In cases where defective products do not satisfy their warranty—but they don't cause physical injury—consumers may be eligible for a lemon lawsuit.
Burden of Proof
For a product liability claim to be successful, a plaintiff must show the following:
The plaintiff suffered injuries or monetary losses as a result of using the product.
The product has a design defect, manufacturing defect, or marketing defect.
The defect caused a plaintiff's injury.
The plaintiff used the product in an intended, foreseeable manner.
Defendants often argue that a plaintiff's own actions contributed to their product-related injuries. While a plaintiff's failure to act prudently can lessen the defendant's blame, it doesn't necessarily excuse the defendant. Many states recognize contributory negligence (or comparative negligence), which reduces a winning plaintiff's damages based on how much they contributed to the injury.
Product Liability Remedies
Successful product liability plaintiffs may recover compensation for the following:
Medical expenses
Lost wages
Physical pain and suffering
Psychological trauma
Any other damages deemed fair and just by the Court
Act Quickly to Hold Companies Accountable
The time to file a product liability lawsuit is limited. State laws create filing deadlines that plaintiffs must follow, or else they forfeit legal rights.
ClassAction.com is a national leader in consumer advocacy. If a product injured you, or you feel that a company fraudulently marketed a product, our expert attorneys can evaluate your claim and advise you on next steps.
Learn how you can hold companies accountable during a free case review.
Did you find what you need?