Self-Driving Cars Lawsuit
(Updated Nov. 12, 2018)
Self-driving cars are revolutionizing the concept of driving and car ownership, turning "drivers" into passive passengers. Though experts claim that this new technology is safer than the average human driver, self-driving cars can still crash.
We are still a few years away from mass production, but autonomous driving technology, specifically Tesla's Model S, has allegedly already caused two fatalities. Tesla now faces a class action lawsuit for its autopilot program, which plaintiffs argue was sold without standard safety features.
But, Tesla isn't the only manufacturer who has put unsafe self-driving vehicles on the roads: Uber, Google, and General Motors vehicles have also crashed, further weakening manufacturers' claims that autonomous vehicles are safer than human drivers.
Do Laws and Regulations Exist for Self-Driving Cars?
Self-driving cars are being manufactured faster than relevant laws can be enacted. As of November 2018, only 29 states have enacted self-driving car legislation.
In September of 2016, the federal government created the first Federal Automated Vehicles Policy. The policy leaves the specifics of manufacturing to companies, but offers uniform safety regulations with a 15-point voluntary safety checklist that manufacturers should sign.
But within the last year, a patchwork of state legislation has emerged, ranging from Arizona's laws which simply require test cars to have a standard vehicle registration, to New York's regulations which require cars to follow an approved route with a police escort.
To address these inconsistencies, the U.S. House and Senate Commerce Committee have passed federal legislation that would give the NHTSA oversight over self-driving cars. But since both pieces of legislation would also increase the number of vehicles exempted from federal regulations—from an annual 2,500 per manufacturer to at least 80,000 per manufacturer by year three—some consumer advocates say the proposed legislation is akin to treating Americans as "crash test dummies."
Have Self-Driving Cars Caused Any Fatalities?
On its website, Tesla promotes the safety of its autopilot software, stating that it "helps avoid collisions from the front and sides, and prevents the car from wandering off the road."
Joshua Brown's Model S failed to avoid a collision with an 18-wheeler in Florida.
But in May 2016, the Model S autopilot allegedly failed to avoid a collision with an 18-wheeler in Florida. The car didn't detect the truck because of its height and a glare from the bright sky. Joshua Brown, the Tesla owner, was killed. This is the first confirmed death caused by Tesla's autopilot.
In September, Tesla issued a software update to Model S vehicles that improves its radar technology. Tesla believes this update would have prevented the accident in Florida. Unfortunately, the update comes far too late for Mr. Brown.
In July 2016, Gao Jubin filed the first lawsuit for the Model S autopilot in China. His son, Gao Yaning, was killed when his Tesla Model S crashed in January 2016. He filed a lawsuit against the Tesla dealer who sold his son the car, arguing that Tesla needs to be more cautious when marketing the autopilot feature and should let owners and potential buyers know that it has defects.
The first pedestrian death associated with a self-driving car occurred in Tempe, Arizona on March 20, 2018. Elaine Herzberg was walking her bike across the street at night when a self-driving Uber SUV struck her.
Have There Been Any Self-Driving Car Accident Lawsuits?
Self-driving technology may still be a relatively new concept, but a number of accidents have already occurred. Injured drivers have helped bring the dangerous problems of this new technology to the public's attention by filing lawsuits against the autopilot manufacturers.
Hudson v. Tesla and Oscar Enrique Gonzalez-Bustamante
"Mr. Hudson became the guinea pig for Tesla to experiment with their fully autonomous vehicle."
In October 2018, our attorney Mike Morgan filed a lawsuit against Tesla on behalf of Shawn Hudson. Mr. Hudson's Tesla Model S was in autopilot mode when it crashed into a disabled Ford Fiesta on the roadway at about 80 mph.
Mr. Hudson purchased the Tesla Model S to improve his long commute on the Florida Turnpike. The lawsuit alleges that Tesla duped consumers like Mr. Hudson into believing that its autopilot could safely transport passengers at high speeds with minimal oversight. In reality, the lawsuit alleges, the software does not reliably detect stationary objects, causing passengers like Mr. Hudson to crash.
Attorney Mike Morgan said in a press conference, "Mr. Hudson became the guinea pig for Tesla to experiment with their fully autonomous vehicle."
The lawsuit was filed in Florida State Court.
Nilsson v. General Motors
A motorcyclist filed the first U.S. lawsuit for an accident involving a self-driving car. A Chevrolet Bolt in cruise automation collided with motorcyclist Oscar Nilsson in San Francisco on December 7, 2017. There was an employee in the car monitoring the test but he didn't have his hands on the wheel while autonomous mode was engaged.
The Chevy Bolt had started to merge into the left lane but stopped and moved back into its original lane, colliding with Mr. Nilsson in the process. He fell off his motorcycle and sustained injuries to his neck and shoulder which were severe enough to necessitate taking disability leave from his job.
Mr. Nilsson filed a lawsuit against General Motors in U.S. federal court in San Francisco. The complaint alleges that General Motors "owes a duty of care in having its self-driving vehicle operate in a manner in which it obeys the traffic laws and regulations," but that they "breached that duty in that its self-driving vehicle drove in such a negligent manner that it veered into an adjacent lane of traffic without regard for a passing motorist."
In June 2018, General Motors agreed to settle the lawsuit for an undisclosed amount.
This accident is the 14th crash involving GM's Cruise Automation reported to the California DMV. Despite these incidents, GM announced in January 2018 that they will release a Level 5 autonomous car without steering wheels or pedals next year.
What About Class Action Lawsuits Over Defective Autopilot Software?
Plaintiffs allege in the complaint that they became "beta testers of half-baked software that renders Tesla vehicles dangerous."
In April 2017, Tesla Model S and X owners filed a class action lawsuit over Tesla's enhanced autopilot software. The lawsuit alleges that the company sold Model S and X vehicles with the autopilot program—costing an additional $5,000—knowing that the program didn't work and wasn't supported with appropriate safety features.
The lawsuit affects Model S and X vehicles manufactured between October 2016 and March 2017: 47,000 vehicles in all.
Plaintiffs allege in the complaint that they became "beta testers of half-baked software that renders Tesla vehicles dangerous," and that when autopilot is engaged, it is susceptible to "lurching, slamming on the brakes for no reason, and failing to slow or stop when approaching other vehicles."
Who Can Be Held Liable When Self-Driving Cars Crash?
These first self-driving car accidents raise the question of who exactly is at fault for a crash. Accidents involving the Tesla Model S are already more complex than typical car accidents, as both the driver and autopilot software have the ability to operate the vehicle.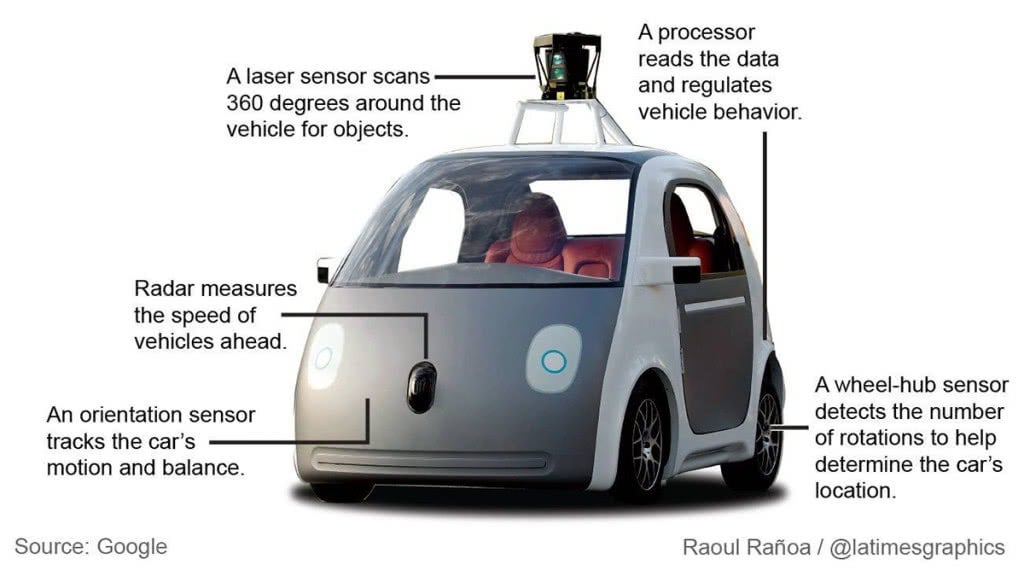 Completely autonomous cars—like those that Google is proposing—are a completely different matter, as car owners may be no more than passengers.
Florida, Georgia, Michigan, Tennessee, and Texas permit fully autonomous cars on the road without drivers as long as certain requirements are met.
Along a similar vein, the National Highway Traffic Safety Administration recently recognized Google software as the "driver" in their self-driving cars. If a passenger lacks the ability to take over the wheel of their car, then we will likely see more cases of manufacturers at fault for automobile accidents.
What Can I Recover from a Lawsuit?
If you operated a car with self-driving technology engaged and it failed to prevent a car accident or you were hit by a self-driving car, you could be entitled to compensation for the following:
Bodily injury and pain and suffering
Disability/physical impairment
Disfigurement
Mental anguish
Loss of enjoyment of life
Medical bills
Lost wages/impaired earning ability
Vehicle damage and other property damage
Involved in a Self-Driving Car Accident?
ClassAction.com attorneys have a successful track record with complex automobile litigation, including winning a verdict of $90 million against BMW. If you were in a car accident involving a self-driving car, you could be entitled to compensation.
Contact us for a free, no-obligation case review. It costs nothing unless we win a jury award or settlement for you.
Did you find what you need?