Florida Man Files Lawsuit After Vape Explosion
Published November 30, 2016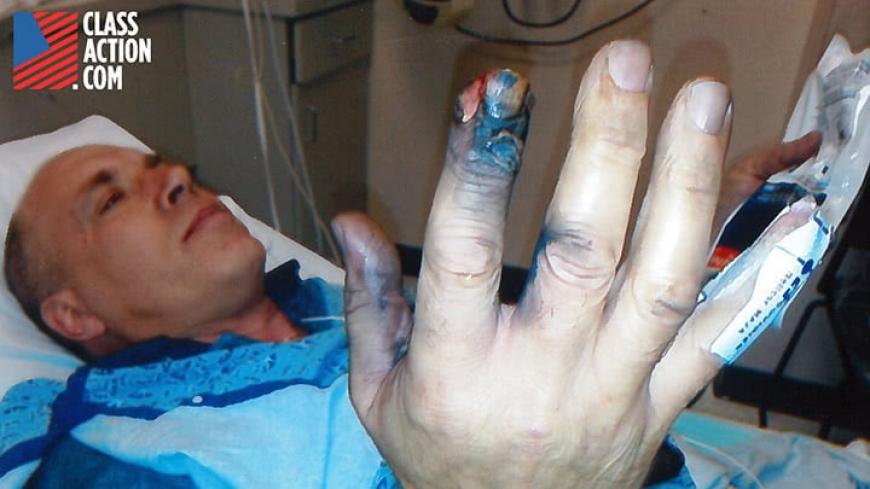 ClassAction.com has filed another product liability and negligence lawsuit against e-cigarette manufacturers and retailers after an alleged vape explosion that injured Florida man James Dardini and adversely impacted his wife, Angela Dardini. This is one of several such cases ClassAction.com has filed in recent months.
Mr. and Mrs. Dardini's lawsuit alleges that a vape device erupted in Mr. Dardini's right pocket, causing second and third degree burns that would require at least one skin graft surgery.
The complaint was filed in Volusia County, Florida earlier this fall. Defendants include Kangertech, which allegedly made the vape devices; Sunshine Vapor, the retailer that allegedly sold Mr. Dardini the vape products; and Perfect Vape, which allegedly imported the devices and sold them to Sunshine Vapor.
The complaint alleges negligence, design and manufacturing failures, and failure to adequately warn plaintiffs of the products' risks, among other charges.
The lawsuit seeks compensation for medical bills, lost wages, and pain and suffering, plus any further relief that the Court deems just and proper.
Plaintiff Says Leg Was Engulfed in Flames
Mr. Dardini says he purchased a Kanger vaporizer and battery from the Sunshine store on September 21, 2015. (The complaint includes a receipt from this purchase.) Around 11am on December 28, 2015, while working in Ocoee, Florida, Mr. Dardini says that the vaporizer exploded in his front right pocket, "engulfing [his] leg in flames."
Mr. Dardini allegedly had to be transported to Health First Hospital in Clermont, Florida, before then being transferred to the Burn Unit at Orlando Regional Medical Center (ORMC) to be treated for second and third degree burns. While at ORMC, Mr. Dardini says he had to undergo "a significant skin graft surgery to his right leg." (The complaint includes photos of all the alleged injuries and devices in question.)
As a result of this alleged incident, the complaint states, "Mr. Dardini sustained severe, permanent and life-altering injuries to his groin, legs and lower back."
Mr. Dardini's wife Angela is a plaintiff because Mr. Dardini's injuries have allegedly affected their marriage and caused Mrs. Dardini "loss of affection" and "mental anguish."
Dardini Case Is Similar to Others Filed by ClassAction.com
The Dardinis' lawsuit shares some similarities with three other e-cig lawsuits recently filed in Florida by ClassAction.com. In one of those cases, that of William Pickett, an e-cig allegedly exploded in his pocket as he drove to work, "engulfing [his] leg in flames." Mr. Pickett says he suffered second and third degree burns.
In another case, Florida man David Studer was allegedly injured when an e-cigarette battery exploded in his shorts pocket, catching them on fire. Mr. Studer's complaint says he suffered second and third degree burns on his thigh.
A third plaintiff, James Lauria, claims an e-cigarette exploded in his mouth, blasting a large hole between the roof of his mouth and his naval cavity and fracturing his teeth and hand, among other injuries.
Mr. Lauria says he had to be intubated because his esophagus was so swollen that he couldn't breathe on his own. He was allegedly airlifted across state lines to the University of Alabama at Birmingham's (UAB) trauma and burn unit, where he was treated for extensive injuries.
ClassAction.com Fights for Injured Vapers
While the specifics of each lawsuit vary, they all have one thing in common: an e-cigarette exploded, seriously injuring someone who had no way to protect against such a traumatic incident.
Our attorneys are pursuing these lawsuits in the hope that we can stem the tide of this rising public health crisis.
Our attorneys are pursuing these lawsuits against e-cigarette companies in the hope that we can stem the tide of this rising public health crisis. Through legal action, we will obtain relief for these victims and hold e-cig companies accountable for their negligence.
If you or a loved one has been injured by e-cigarettes, please contact us immediately for a free case review. Don't hesitate; these cases are time-sensitive, and you may be entitled to compensation.