Your Roundup Lawsuit Questions Answered
Published August 20, 2018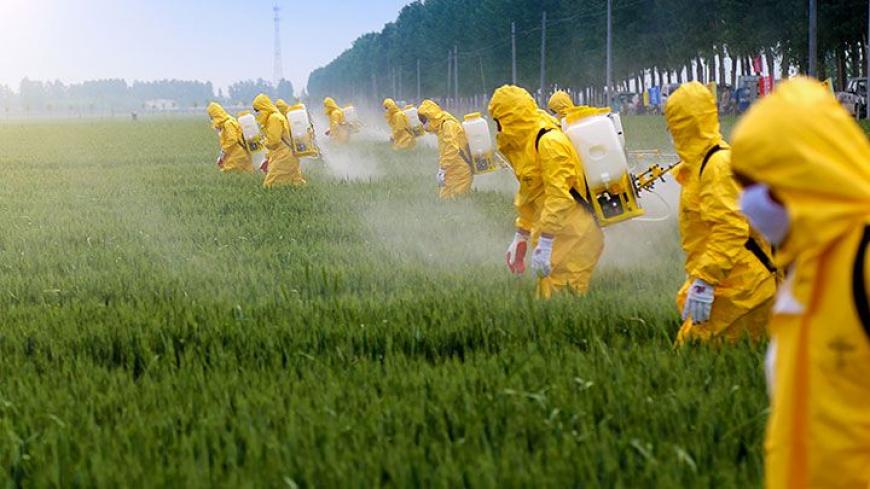 That weed killer buried in your garage is receiving a lot of media attention lately. Why are people suing Roundup's manufacturer? And how safe is your go-to herbicide really? We break down some of the most common questions circulating these lawsuits.
What is glyphosate?
Glyphosate is an active ingredient found in Monsanto's Roundup weed killer. It's an herbicide that kills broadleaf plants and grasses.
Nearly 300 million pounds of glyphosate are sprayed each year, making it the most used herbicide in the world. Since its introduction in 1974, Americans have applied around 2 million tons of glyphosate. Worldwide, approximately 10 million tons of the chemical have been sprayed. That makes glyphosate the most-heavily used agricultural chemical in history.
Why are people filing lawsuits against Monsanto?
Tens of thousands of farmers, gardeners, and groundskeepers have filed lawsuits against Monsanto, Roundup's manufacturer, alleging that glyphosate may cause cancer.
The lawsuits claim that Monsanto knew that glyphosate exposure could increase the risk of developing cancer, but failed to warn consumers about it on the product labels. They also argue that Monsanto tried to cover up Roundup's health risks by misinforming government agencies and the public of its safety.
Wait...Monsanto misled government agencies about Roundup's safety?
Monsanto employees recommended that they ghostwrite sections of the EPA's final report on glyphosate to reduce costs.
According to hundreds of pages worth of internal emails and documents released in trial, it appears that some collusion may have happened.
One email recounted that Jess Rowland, former manager of the EPA pesticide division, allegedly discussed how to stop the EPA's safety review of glyphosate. Rowland allegedly told Monsanto's regulatory affairs manager, "If I can kill this, I should get a medal."
Other documents suggest that Monsanto employees recommended that they ghostwrite sections of the EPA's final report on glyphosate to reduce costs.
In one email, Scott Partridge, Monsanto Vice President of Global Strategy, allegedly said that Monsanto should "ghost-write the Exposure [toxicity] and [genotoxicity] sections."  Those sections of the report examine how people are exposed to glyphosate, and whether or not glyphosate damages cell genes—so ultimately, whether or not glyphosate may increase the risk of cancer.
Another released internal letter claims that the EPA scientists who were trying to do their jobs and properly assess the chemical were pressured by Rowland and other EPA officials to do otherwise. "You and Anna Lowit intimidated staff on CARC [Cancer Assessment Review Committee]…to favor industry," former EPA toxicologist Marion Copley accused in a letter to Rowland."
Monsanto internal documents also show that the company campaigned against those that exposed its possibly-inappropriate relationships with academics and third parties. For example, a report from The Guardian describes how Monsanto operated an "intelligence fusion center" that targeted journalist Carey Gillam, musician Neil Young, and not-for-profit organization US Right to Know (USRTK). 
Does Roundup cause cancer?
Many health agencies and scientists around the world have alleged that exposure to glyphosate may increase the risk of developing cancer. Monsanto maintains that glyphosate does not cause cancer. 
In 2013, scientists Anthony Samsel and Stephanie Seneff published a report in the peer-reviewed journal Entropy concluding that over time glyphosate may damage cellular systems throughout the body. One consequence of this, Samsel and Seneff say, is cancer.
Another study published in a 2015 edition of Environ Health found that some rats exposed to Roundup in low doses suffered kidney and liver damage. The study concluded that long-term, low-dose exposure to glyphosate-based herbicides "can result in liver and kidney damage with potential significant health implications for animal and human populations."
Perhaps the most influential study came from the World Health Organization's International Association of Research on Cancer (IARC). The IARC scientists conducted a systemic review of all publicly available glyphosate research, excluding those studies conducted by the chemical industry unless they were published in respected sources like peer-reviewed journals or by government agencies. Based on their results, the scientists classified glyphosate as a probable carcinogen.
The chemical industry has attacked the IARC's research the most, even going so far as to claim that the international body of scientists produces "junk science." You can read the IARC's response to those criticisms here.
EPA's glyphosate findings contradict those of the IARC. In 2019, EPA reaffirmed its stance that glyphosate is not carcinogenic. EPA Administrator Andrew Wheeler said in an April 2019 statement that the agency found "no risks to public health from the current registered uses of glyphosate."
Also in 2019, University of Washington researchers published an analysis that found exposure to glyphosate may increase the risk of non-Hodgkin lymphoma by up to 41 percent. The researchers said that these findings align with the IARC's glyphosate cancer assessment. 
How many lawsuits have been filed?
More than 18,000 lawsuits await trial in state and federal courts. These are consolidated in the multidistrict litigation (MDL) In re: RoundUp Products Liability. 
Have there been any verdicts or settlements?
Yes. The first Roundup lawsuit that went to trial resulted in a $289 million verdict. The second and third Roundup trials produced $80 million and $2 billion verdicts. However, upon review, judges substantially reduced each of the initial awards. 
Bayer asked the judges overseeing the cases to reduce the punitive damages, and the judges found that the ratio of punitive damages to compensatory damages were excessive. The United States Supreme Court has imposed limits on the amount of punitive damages a jury may award based on the Due Process Clause of the U.S. Constitution. 
A fourth Roundup lawsuit scheduled for August 2019 was tentatively rescheduled for January 2020. This has led to speculation that Monsanto will settle remaining Roundup lawsuits. 
How has Monsanto responded to litigation? Are they going to add a warning to Roundup labels now?
Despite three huge trial losses and the bad publicity they have created for Monsanto, the company—at least publically—remains defiant. Following its third consecutive Roundup lawsuit defeat, Bayer expressing "disappointment" with the jury's decision and maintained that glyphosate does not cause cancer. "The verdict in this trial has no impact on future cases and trials, as each one has its own factual and legal circumstances," Bayer said in a statement. 
If we ever see a cancer warning on Roundup labels, it will most likely be because the company was forced to add one. California recently attempted to require that cancer warnings be published on Roundup bottles, but was promptly sued by Monsanto. Earlier this year, a federal judge blocked the state from requiring the warning label. And EPA said that it will not approve cancer warning labels on Roundup and other glyphosate products. 
Who can file a Roundup lawsuit?
Anyone who has been exposed to Roundup and has developed lymphatic cancer, like non-Hodgkin's lymphoma, within the last decade may be eligible to file a lawsuit. Lawsuits can help recover compensation for past and future medical bills, loss of wages, and pain and suffering. 
Contact us for a free, no-obligation legal review. Our team will tell you if you may have a case.