Bair Hugger Lawsuit
Arizant Healthcare, a subsidiary of 3M, is facing lawsuits over its popular Bair Hugger forced-air patient warming device. Patients allege that the device is the cause of serious infections suffered during surgery.
Keeping patients warm during surgery helps to improve surgical outcomes. Bair Hugger uses hot air to warm patients, but research indicates that the device also stirs up contaminants from the operating room floor and deposits them into the surgical site. Pathogens spread to the patient in this manner can lead to deep joint infections, the need for more surgery, and in severe cases, amputation. Antibiotic resistant bacteria that are prevalent in hospitals makes the risk of infection particularly troublesome.
Surgical site infection appears to be more prevalent with the Bair Hugger warming system than other available patient warming methods.
In a rare admission, the inventor of Bair Hugger has come out against the device and said that it should not be used for some surgeries. There has in general been little publicity about Bair Hugger dangers, however, and patients undergoing joint surgery likely have no idea that they are at risk from the warming device.
Did you or someone you know undergo joint replacement surgery and develop a serious infection within 60 days of the procedure?
Contact ClassAction.com for a free case review and find out how we can help.
The Problem With Bair Hugger
Bair Hugger uses forced air warming to keep patients from suffering a dangerous drop in body temperature (hypothermia) during surgery.
The system has a heater/blower unit that draws in air, warms it, and sends it through a hose into an inflatable warming blanket that's placed above or below the patient, depending on the type of surgery. Perforations in the blanket distribute heated air across the patient's body.
Bair Hugger is designed to prevent patients undergoing surgery from experiencing hypothermia, which can increase the likelihood of surgical site infection and other serious complications. Surgical site infection, however, appears to be more prevalent with the Bair Hugger warming system than other available patient warming methods.
Rising air currents containing pathogens are introduced into the sterile surgical field, where they can infect the patient.
While patient warming is a benefit, forced-air warming as it's utilized in the Bair Hugger system may actually be a danger. The alleged problem—the risk of contamination by air flow—can be found in the Bair Hugger design.
According to lawsuits, waste heat from Bair Hugger escapes from below the surgical blanket near the operating room floor, where it mixes with contaminants on the floor and forms into rising air currents containing pathogens. The pathogens are then introduced into the sterile surgical field, where they can infect the patient.
Lawsuits further allege that microbial contaminants build up within and are emitted by the Bair Hugger heater/blower unit, and that the internal filtration system of Bair Hugger is insufficient to prevent the emission of contaminants into the operating room. Case filings point out that 3M represented Bair Hugger's filtration system as meeting High Efficiency Particulate Air (HEPA) standards (capable of removing 99.97% of particles), but that as it's marketed, the Bair Hugger filter is only capable removing less than 65% of particles.
Research Supporting Plaintiff Claims About Bair Hugger
Bair Hugger lawsuits reference a number of studies that they say support the idea of forced air warming devices contributing to operating room contamination and an associated higher risk of patient infection.
"There is little evidence that the efficiency of the intake filter is adequate to prevent airborne contamination emissions or protect the internal air path from microbial contamination buildup." - Albrecht M, et al. Forced-air warming blowers: An evaluation of filtration adequacy and airborne contamination emissions in the operating room. Am J Infect Control
"The design of FAW blowers was found to be questionable for preventing the build-up of internal contamination and the emission of airborne contamination into the operating room." - Leaper D, et al. Forced-air warming: a source of airborne contamination in the operating room? Orthopedic Rev. 2009.
"A significant increase in deep joint infection, as demonstrated by an elevated infection odds ratio was identified during a period when forced-air warming was used." - McGovern, P.D., et al. Forced-air warming and ultra-clean ventilation do not mix. J Bone and Joint Surg.
"Waste heat created convection currents that rose against the downward unidirectional airflow, causing turbulence over the patient. The convection currents increased the particle concentration 1000-fold by drawing potentially contaminated particles from below the operating table into surgical site." – Legg, A.J., et al. Forced-air patient warming blankets disrupts unidirectional airflow. The Bone & Joint Journal.
Injuries Associated with Bair Hugger
Patients allege in lawsuits that Bair Hugger caused them to suffer the following personal injuries:
Deep joint infections of the hip and knee (including staph infections, methicillin-resistant S aureus, aka MRSA, and other serious infections)
Sepsis
The need for additional surgeries to clean up the infection and/or implant a new replacement joint
Permanent impaired/limited mobility
Amputation of an affected limb due to an incurable infection
Examples of Bair Hugger Lawsuits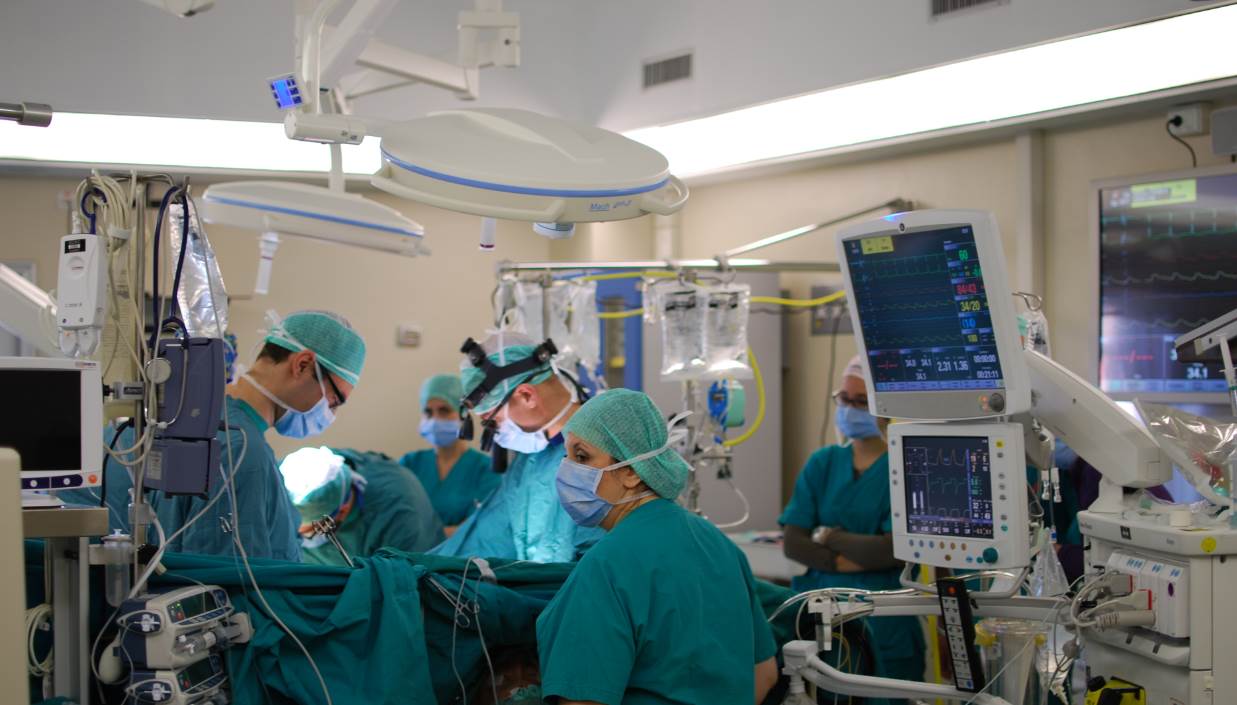 Here are what some actual plaintiffs are claiming in Bair Hugger lawsuits:
A woman claims that she underwent knee replacement surgery that used a Bair Hugger warming device and developed a deep joint infection shortly after the surgery that required multiple additional procedures to remove the implant and clean the infected area. Plaintiff suffers and will continue to suffer impaired mobility, her claim states.
A man alleges that he developed an infection while undergoing hip replacement surgery that used a Bair Hugger. The man required 3 additional surgeries to remove the hip implant and clean the infected and dead tissue in his leg. As a result of the infection, the lawsuit states, most of the Plaintiff's thigh muscle was removed, and he suffers from impaired mobility that makes walking difficult.
Lawsuit Allegations
Bair lawsuits accuse 3M of:
Defective design of the Bair Hugger
Bringing to market an unreasonably dangerous product
Concealing the risks of the Bair Hugger
Failing to adequately test the Bair Hugger
Aggressively marketing the Bair Hugger, despite knowledge of safety issues
Misrepresenting the Bair Hugger as meeting HEPA filtration standards
Making false and intentionally misleading statements about the safety of Bair Hugger
Failing to redesign, discontinue, or warn doctors about dangers associated with Bair Hugger in light of numerous peer-reviewed scientific studies that identify critical device shortcomings
Negligence
Causing patient harm as a result of the above-stated acts and omissions
Possible Compensation
Personal injury lawsuit compensation provides money to pay for medical bills, lost work time, impaired ability to earn an income, diminished quality of life, and other losses.
In the case of Bair Hugger lawsuits, plaintiffs may be able to recover money from 3M for the cost of follow-up surgery resulting from surgical wound contamination as well as the costs of rehabilitation and other therapy/services related to long-term disability. They may also be eligible to receive compensation for an inability to work (or diminished income prospects) as a result of health complications found to arise from the Bair Hugger.
Lawsuit Eligibility
To be eligible for a Bair Hugger lawsuit a patient must have:
Undergone joint replacement surgery where a Bair Hugger warming system was used
Developed a hospital-acquired deep joint infection within 60 days of the surgery
Suffered losses as a result of the infection, such as losses from prolonged hospitalization, additional surgeries, prolonged or painful recovery, amputation of the affected limb, disability, or physical therapy
Bair Hugger Lawsuits Consolidated in Federal Court
Based on the large number of similar lawsuits filed against 3M over the Bair Hugger system (more than 800), the lawsuits were centralized in Minnesota U.S. District Court as part of a multidistrict litigation (MDL). A pool of initial cases to be tried in court are expected to be chosen in December 2016.
Plaintiffs who join the MDL retain their own lawyer and their own individual lawsuit.
Receive a Free Case Review
If you or a loved one underwent joint replacement surgery that used a Bair Hugger warming system and subsequently develop a serious deep joint infection, you may be eligible to file a lawsuit and recover compensation.
Get answers to your questions about Bair Hugger and find out whether you have a case during a no-cost consultation. You pay nothing unless we win a jury award or settlement.
Did you find what you need?