Benicar (olmesartan medoxomil) and its sister drugs Azor and Tribenzor are used to treat high blood pressure. But they may cause severe gastrointestinal injuries, including the rare disorder sprue-like enteropathy.
Daiichi Sankyo faced thousands of lawsuits for Benicar-related injuries, including severe gastrointestinal disorders.
The U.S. Food and Drug Administration (FDA) warned about the link between olmesartan products and intestinal problems in 2013—11 years after Benicar was first approved. Drugmaker Daiichi Sankyo never voluntarily warned about the drug's association with intestinal injuries, despite mounting evidence and numerous adverse event reports.
Daiichi Sankyo did, however, spend $1 billion on Benicar advertising that the FDA found to be misleading. The Benicar family of products has been prescribed tens of millions of times and earned its maker billions of dollars.
After developing intestinal injuries while taking Benicar and its sister drugs, more than 2,000 patients filed lawsuits against Daiichi Sankyo seeking financial compensation for injury-related losses.
On August 1, 2017, Daiichi Sankyo reached a $300 million settlement to resolve these lawsuits.
About Benicar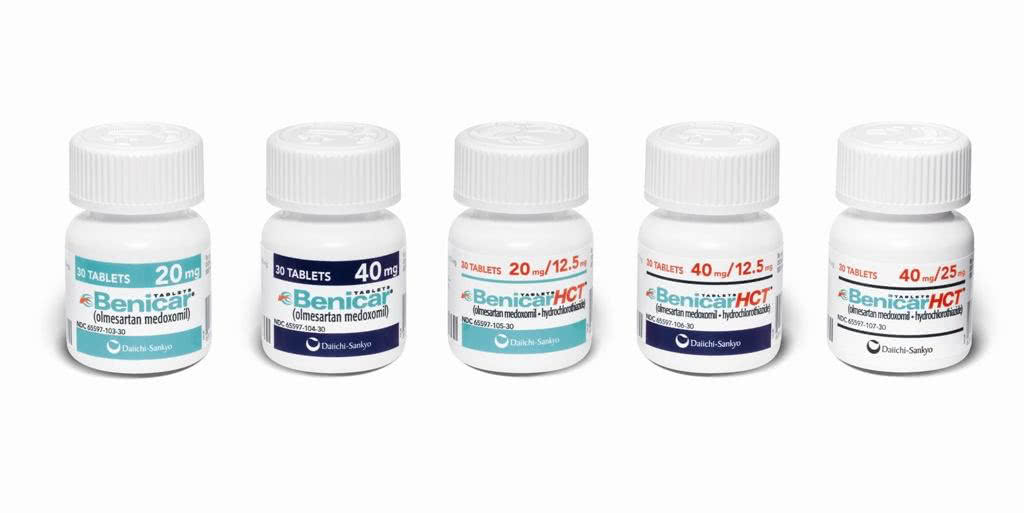 Benicar and its sister drugs contain olmesartan medoxomil, a type of antihypertension agent known as an angiotensin II receptor blocker (ARB). These drugs lower blood pressure and reduce the risk of cardiovascular events such as strokes and heart attacks that are associated with high blood pressure.
Not all ARBs contain olmesartan medoxomil. Other types of ARBs include candesartan (Atacand), irbesarten (Avapro), and valsartan (Diovan). The intestinal side effects associated with the Benicar family of drugs is has not been detected with other ARB drugs.
Benicar gained FDA approval in 2002, followed by Benicar HCT (olmesartan medoxomil/hydrochlorothiazide) in 2003, Azor (olmesartan medoxomil/amlodipine) in 2007, and Tribenzor (olmesartan medoxomil/amlodipine/hydrochlorothiazide) in 2010.
How ARB Drugs Work
ARB drugs treat hypertension, or high blood pressure. Blood pressure is a measure of the force of blood pressing against blood vessel walls. When blood pressure is high, the heart has to work harder to pump blood, and blood vessel walls become overstretched and injured. Over time the effects of high blood pressure can produce many negative health effects, including permanent damage to the heart, brain, blood vessels, and kidneys as well as heart attacks, blood clots, strokes, and heart failure.
A key factor in blood pressure is angiotensin II, a naturally-occurring chemical formed in the blood which causes blood vessels to narrow. When blood vessels narrow, blood has less space to move in, and blood pressure is raised.
ARB drugs like Benicar block angiotensin II, allowing blood vessels to relax and widen and making it easier for blood to pass through, thus decreasing blood pressure.
Benicar and Enteropathy
Olmesartan-containing blood pressure medications appear to damage the gut and produce a condition known as sprue-like enteropathy. The condition may alternately be called olmesartan associated enteropathy (OAE).
Enteropathy is a medical term that describes intestinal disease, while sprue is a disease that causes problems with how the intestines absorb nutrients.
A well-known type of enteropathy is celiac disease, caused by hypersensitivity to gluten, a protein found in grains. In patients with celiac disease, when gluten is ingested the body mounts an immune response that damages the villi (villi are small fingerlike projections in the small intestine that absorb nutrients). Damage to the villi results in digestive problems.
Something similar appears to occur in some patients taking olmesartan medications. In fact, olmesartan associated enteropathy is often misdiagnosed as celiac disease.
All 22 patients' enteropathy symptoms went away when they stopped taking olmesartan.
Olmesartan associated enteropathy was first detected in patients at the Mayo Clinic in Minnesota. It was initially thought that 22 patients' diarrhea and enteropathy might be caused by celiac disease, but after a gluten-free diet failed to resolve their symptoms, celiac disease was ruled out. All 22 patients' symptoms went away when they stopped taking olmesartan.
Stomach biopsies of most patients in the Mayo Clinic study revealed that they had villous atrophy (damage to the villi) and mucosal inflammation (inflammation of the mucous membrane layer of the stomach). Numerous other studies and case reports have confirmed the Mayo Clinic findings.
Symptoms of sprue-like enteropathy include:
Severe, chronic diarrhea
Substantial weight loss
Abdominal pain and inflammation
Bloating
Nausea
Vomiting
Malnutrition
Dehydration
Fatigue
Symptoms of sprue-like enteropathy may develop months or even years after starting olmesartan, and they commonly require hospitalization.
FDA Warns About Benicar and Enteropathy
Less than a year after the Mayo Clinic drew attention to the link between olmesartan products and sprue-like enteropathy, the FDA released a drug safety communication saying that Benicar and similar drugs required new labels to warn about the risk.
Previously, prescribing information for the Benicar family of drugs listed diarrhea as a possible adverse reaction, but did not mention other gastrointestinal side effects. According to the FDA, enteropathy seems to be associated only with olmesartan products, and not with ARB drugs generally.
Patients filing Benicar lawsuits argued that, prior to the FDA's labeling mandate, there was enough scientific evidence linking olmesartan and enteropathy to warrant voluntary labeling changes. They also said that Daiichi Sankyo's failure to do so showed a lack of reasonable care towards patients.
Additional Research Strengthens Benicar-Enteropathy Link
In 2012, around the same time that clinical evidence linked Benicar to intestinal side effects, one Mayo Clinic doctor said that the initial findings might represent "the tip of the iceberg." It turns out that he was right, as many other studies, including the following, further support a causal association between olmesartan products and intestinal injuries:
"This case highlighted the importance for clinicians to maintain a high index of suspicion for olmesartan as a precipitant of spruelike enteropathy." - E. Dreifuss, Y. Tomizawa, N.J. Farber, et al., Spruelike Enteropathy Associated with Olmesartan: An Unusual Case of Severe Diarrhea. Case Reports in Gastrointestinal Medicine. February 2013.
"Patients initially labeled as unclassified were found to have [villous atrophy] associated with olmesartan use." - Villous Atrophy and Negative Celiac Serology: A Diagnostic and Therapeutic Dilemma. J. Gastroenterol. May 2013.
"We report a clear case of an angiotensin II inhibitor [olmesartan] that caused villous blunting of the duodenum and gastrointestinal symptoms similar to those of celiac disease." - A. Nielsen, A. Steephen, M. Lewin. Angiotensin-II inhibitor (olmesartan)-induced collagenous sprue with resolution following discontinuation of drug. World J. Gastroenterol. Oct 2013.
"There is growing evidence supporting the association between olmesartan and sprue-like symptoms." -M.L. Sanford and A.K. Nagel. A Review of Current Evidence of Olmesartan Medoxomil Mimicking Symptoms of Celiac Disease. Pharm. Prac. March 2014.
This handful of case reports and studies is indeed just the "tip of the iceberg." The master complaint for the Benicar multidistict litigation listed approximately 20 clinical findings that link the Benicar family of drugs to intestinal disease.
Illegal Benicar Promotion
Illegal promotion of olmesartan products led doctors to prescribe the drugs to more patients than they otherwise would have.
Daiichi Sankyo has twice been in hot water over its illegal marketing of olmesartan products, first with the FDA and later with the Justice Department. In both instances, according to Benicar lawsuits, Daiichi Sankyo's illegal promotion of its olmesartan products led doctors to prescribe the drugs to more patients than they otherwise would have, directly contributing to adverse events in the patient population.
FDA Warnings
From 2002 to 2008, Daiichi Sankyo spent $1 billion promoting Benicar and Benicar HCT, helping it to become one of the top-selling ARB drugs in the U.S. The major thrust of this promotional campaign, which involved distributing marketing materials to physicians and consumers, was that Benicar and Benicar HCT were superior, more effective, and safer than other available blood pressure drugs.
In 2006, the FDA sent a warning letter to Daiichi saying that these claims were unsubstantiated and misleading because there was no evidence for them. The FDA also found that Benicar promotional materials omitted and downplayed the risks of Benicar.
Daiichi Sankyo was ordered to take corrective measures, and although it did, the company apparently did not learn its lesson, as the FDA issued a similar warning letter in 2013, this time for Daiichi's unsubstantiated efficacy claims about Benicar.
False Claims Act Violations
The U.S. Department of Justice announced in January 2015 that Daiichi Sankyo had agreed to pay $39 million to settle a False Claims Act whistleblower lawsuit brought by a former Daiichi sales representative.
According to the settlement, Daiichi Sankyo paid kickbacks to physicians in the form of "lavish entertainment and padded speaker program payments" to induce doctors to prescribe Azor, Benicar, Tribenzor, and other drugs.
Benicar Lawsuits Result in $300M Settlement
On August 1, 2017, Daiichi Sankyo reached a $300 million settlement with 2,300 plaintiffs who filed lawsuits over Benicar and related drugs. This settlement fund covers all lawsuits filed against the drug maker since January 2014. A portion of this fund will also go to attorney fees and the Claims Administrator.
Glenn Gormley, Daiichi Sankyo's Executive Chairman and President, said, "We believe a settlement is in the best interest of all, and will allow us to continue our focus on bringing to market innovative medicines that help people live healthy and meaningful lives."