IVC Filters Lawsuit
(Updated April 20, 2018)
IVC filters are linked to hundreds of injuries. At least one manufacturer appears to have hidden device flaws from the public.
Inferior vena cava (IVC) filters are tiny, spider-like wire devices inserted into the largest vein in the body to prevent blood clots that originate in the lower body from reaching the heart and lungs, where they can be fatal. But the IVC filters can themselves be deadly when pieces break off, migrate, and puncture veins and organs.
If you or a loved one were injured by an IVC filter, contact us for a free consultation. You may be eligible for a lawsuit that could result in compensation for medical bills, pain and suffering, and more.
Problems with IVC Filters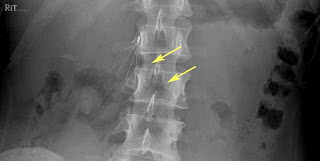 Despite a lack of long-term studies demonstrating IVC filter safety and effectiveness—and even though research shows filter recipients still suffer from pulmonary embolisms and have an even higher incidence of deep vein thrombosis—the devices are implanted in roughly a quarter of a million U.S. patients each year.
Why? Most patients at risk for thromboembolism take anticoagulant medications (blood thinners), but some patients are poor candidates for these drugs. For them, an IVC filter can't stop blood clots from forming, but it can prevent a blood clot from reaching and blocking the pulmonary artery.
The traditional wisdom behind the device's use, however, has been called into question not only by research, but also by a high volume of reported device complications. From 2005 to 2010, the FDA received more than 900 adverse event reports involving IVC filters. The most common complaints were:
Device migration (328 reports)
Detachment of device components (146 reports)
Filter perforated vein or organ (70 reports)
Filter fracture (56 reports)
Many newer IVC filter models are designed to be removed once the patient is medically cleared, but there can also be complications with device removal. The Journal of the American Medical Association (JAMA) published a study that looked at 952 patients with IVC filters. About 2% of device retrievals failed, for the following reasons:
Filter was imbedded in the inferior vena cava
Filter was protruding through a blood vessel
Abnormal filter position
Blood clot inside the filter
You can read more about the research linking IVC filters to patient complication on our IVC Filter Product Page.
Lawsuits Target Bard, Cook Filters
Hundreds of IVC filter lawsuits have been filed nationwide, mostly against manufacturers C.R. Bard and Cook Medical. The primary devices named in these lawsuits are:
Bard Recovery
Bard G2 and G2 Express
Cook Celect
Cook Günther Tulip
Bard's negligence regarding IVC filters was documented in an NBC News investigation. According to NBC, dozens of deaths and hundreds of non-fatal complications are linked to the Bard Recovery and G2 filters. The investigation says that Bard knew about problems with the devices but did not pull them from the market.
Instead, the company allegedly covered up the issues and continued selling the faulty G2 and Recovery filters, putting hundreds of thousands of patients at risk for potentially fatal injuries.
Examples of IVC Injuries
Since IVC filters are placed in a vein that carries blood to the heart and lungs, metal filter pieces that break off can puncture that vein or end up embedded in those organs. The entire filter can also dislodge from the implant site and wreak havoc on the vascular system.
Here are some descriptions of injuries allegedly suffered by IVC filter patients:
NBC News profiled two women whose IVC filters malfunctioned. Dodi Froehlich was nearly killed and required emergency open heart surgery after a filter piece broke off and pierced her heart. Gloria Adams' IVC filter, dislodged by a blood clot, punctured her heart and killed her.
A lawsuit filed against C.R. Bard (Vlasvich et al v. Bard Peripheral Vascular, No. 1:2013cv07817) claims that the plaintiff, implanted with a Bard G2 filter, underwent a CT scan that showed metallic spokes which had broken off of the filter and lodged in the right ventricle of the heart and in the right lung. The patient underwent two extensive surgeries to remove the metal pieces, but the fragments in the lungs could not be successfully removed and remain permanently lodged there.
An IVC lawsuit against Boston Scientific (Ratliff v. Boston Scientific Corporation, No. 2:2012cv02049) alleges that the plaintiff suffered a medical emergency and died while at a roadside rest area. An autopsy revealed that the plaintiff's IVC filter broke free of the implantation site and pierced the inferior vena cava, causing a fatal hemorrhage.
IVC Filter MDLs and Class Actions
Two types of IVC filter mass torts seek compensation for injury victims.
MDL: Multidistrict litigation (MDL) lawsuits have formed in Indiana (IN RE: Cook Medical, Inc., IVC Filters Products Liability Litigation) and Arizona (IN RE: Bard IVC Filters Product Liability Litigation) federal courts. MDLs consolidate similar types of cases for pretrial proceedings but allow plaintiffs to maintain individual lawsuits.
Class Action: Bard IVC filter class action lawsuits have been filed in Florida, Pennsylvania, and California courts. The class actions seek to establish a medical monitoring fund for all patients implanted with Bard IVC filters because they will require ongoing tests to ensure the safety of the devices.
IVC Filter Verdicts and Settlements  
Bard was ordered to pay $3.6 million to a woman injured by a broken IVC filter.
On March 30, 2018, a Phoenix jury found Bard 80 percent responsible for the injuries suffered by a woman who claimed an IVC filter fractured in her body. The company was ordered to pay $3.6 million in compensatory and punitive damages.
The case was the first bellwether for the MDL in Arizona against Bard. Bellwethers can help attorneys predict the outcomes of similar cases.
Lawsuit Allegations
Lawsuits against IVC filter manufacturers accuse the companies of:
Designing, manufacturing, and marketing defective medical devices
Bringing to market unreasonably dangerous products
Failing to warn about product defects and health risks
Disregarding the health and safety of filter recipients to serve their own financial interests
Breaching their duty to act reasonably in order to prevent foreseeable patient harm
Concealing knowledge of device defects and dangers
IVC Filter Lawsuit Compensation
A lawsuit against Bard, Cook, or another IVC filter manufacturer could provide compensation for losses that include:
Medical expenses
Lost wages and impaired earning ability
Pain and suffering
Emotional anguish
Disfigurement/disability/impairment
Loss of ability to lead a normal life/Loss of enjoyment of life
Loss of services, support and society (in the case of a wrongful death)
IVC Filter Lawsuit Eligibility
You may be eligible for an IVC filter lawsuit if:
You were implanted with an IVC filter
The filter broke, migrated, or otherwise did not perform as intended
The filter malfunction caused you injury and injury-related losses
Learn More During a Free Consultation
Our attorneys have a strong track record of success against the medical device industry. We have the resources and experience needed to take on well-funded defendants such as C.R. Bard and Cook Medical.
Were you or a loved one injured by an IVC filter? Get in touch with us today and find out how a lawsuit can help.
Did you find what you need?