Keratin Hair Products Lawsuit
ClassAction.com attorneys filed a class action lawsuit in New York against Matrix and L'Oreal for false advertising.
Hair products containing keratin—the main component of hair—promote the protein's supposedly restorative qualities. However, most hair products that advertise the benefits of keratin don't contain it or even specifically target the protein. To make matters worse, there is no evidence that keratin additives benefit hair health or growth.
ClassAction.com attorneys filed a class action lawsuit in New York against Matrix and L'Oreal for false advertising.
Keratin Products May Not Be Able to Repair Hair Damage
Any advertisements that claim to reverse damage or repair split ends are unfounded, experts say.
Because hair is predominantly made of keratin, it's become a buzzword used to advertise the restorative qualities of hair products. Keratin-enriched shampoos, conditioners, etc. will strengthen your hair, companies argue, because you are restoring its natural element.
Damaged hair isn't the culprit of keratin deficiency though, but rather damaged cuticles. Hair cuticles are the outermost protective layer of hair follicles. When cuticles are damaged, openings are formed, making the hair cortex (the core of hair follicles) vulnerable to split ends and other forms of damage. When cuticles are healthy, hair is shiny and smooth.
It's important to note that hair is already dead matter and cannot repair itself. Once the hair cortex is damaged, the only way to repair it is by cutting it.
Hair products can help damaged hair appear shiny, smooth, and healthy, but the effects are temporary and simply mask the damage underneath. It is possible for products to seal the cuticle to prevent further damage to the hair cortex, but they can't restore unhealthy hair to its former glory. Any advertisements that claim to reverse damage or repair split ends are likely misleading.
Most Keratin Products Don't Contain Keratin
In addition to not delivering the results promised on the bottles, many keratin hair products don't actually contain keratin or ingredients that specifically target the protein, despite misleading phrases like "keratin repair" and "pro-keratin" in their product names.
Products that are guilty of falsely advertising Keratin ingredients are:
Pantene Pro-V Expert Collection Advanced Keratin Repair Conditioner
Pantene Pro-V Expert Collection Advanced Keratin Repair Split End Fuser Hair Product
Pantene Pro-V Expert Collection Advanced Keratin Repair Shampoo
Pantene Pro-V Expert Collection Advanced+ Keratin Repair Keragloss Oil Mist
Biolage Keratindose Pro-Keratin Renewal Spray
Biolage Keratindose Shampoo for Overprocessed Hair
Biolage Keratindose Conditioner for Overprocessed Hair
Matrix® Biolage Keratin Dose Shampoo
Matrix® Biolage Keratin Dose Conditioner
Essentially, these products are over promising the benefits of an ingredient they don't actually contain.
Only 18% of Beauty Advertising Claims Are Legitimate
Though many keratin products don't contain ingredients that aid the protein, it doesn't stop companies like Pantene from falsely advertising the benefits of their missing ingredient. The company proclaims that their Advanced + Keratin Repair products "repair two years of damage in just two minutes."
Exaggerated claims like these have become the norm in the cosmetics industry, ultimately hurting customers who shell out more money for ineffective products.
A study published in the Journal of Global Fashion Marketing found that four in five claims in beauty advertising are unsubstantiated. Researchers examined 300 full-page beauty advertisements in popular magazines like Vogue and Glamour using four categories: "outright lie"; "omission"; "vague"; and "acceptable." Only 18% of advertising claims were labeled as acceptable.
Many consumers still rely on advertisements to inform their purchases, making it essential that the cosmetics industry is held accountable for their claims. An online survey conducted by Videology found that 23% of beauty consumers predominantly receive information about beauty products from advertisements, second only to word of mouth.
The company also found that product ingredients are the second most popular reason consumers try a new beauty product, making it easy to understand why companies want to advertise particular proteins, minerals, etc. in their hair care lines.
Advertising Regulations Require Claims Are Backed by Science
Despite weak oversight from the FDA, the Federal Trade Commission (FTC) provides an avenue for consumers to hold cosmetic companies accountable for deceiving product claims.
The FTC enforces advertising laws and oversees consumer litigation against companies. Their Truth In Advertising Act states that advertisements found in any medium "must be truthful, not misleading, and, when appropriate, backed by scientific evidence."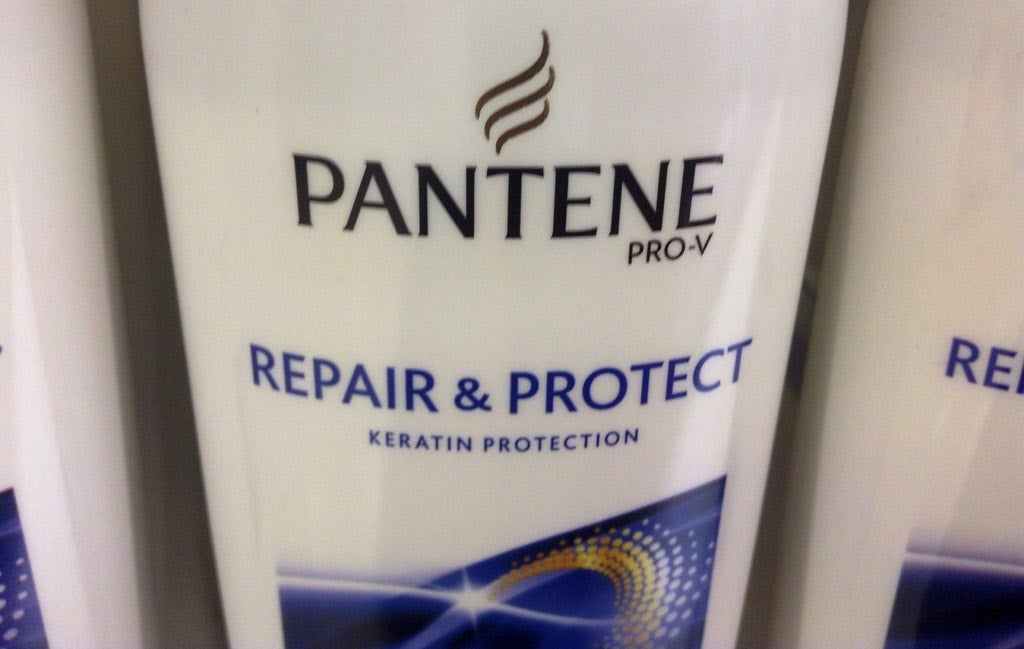 The FTC has stopped egregious advertising from cosmetics companies in the past—most notably L'Oreal in 2014. The company advertised that their Lancôme Génifique and L'Oréal Paris Youth Code skin care products were "clinically proven" to produce "visibly younger skin in just seven days." The FTC ordered that they stop making these claims unless they had scientific proof to back them up. The company will be charged a $16,000 fine per day / per ad for each misleading claim going forward.
Pantene Pro-V shampoo and conditioner have also been put to task for misleading claims. In a case very similar to their current keratin saga, the U.K.'s Advertising Standards Authority required Pantene Pro-V to change how they were advertising the benefits of the amino acids present in their products.
The Advertising Standards Authority argued that Pantene's claims were simply "advertising puffery."
Pantene Pro-V claimed that their products "replenished key aminos" to make hair "up to ten times stronger so it springs back to life." However, the Advertising Standards Authority did not find the two most common amino acids for hair growth anywhere in the shampoo's ingredients. They argued that Pantene's claims were simply "advertising puffery."
Keratin Lawsuit Allegations
To fight back against this long list of deceptive claims, consumers have filed complaints against keratin hair products.
ClassAction.com attorneys filed a class action lawsuit in New York against Matrix and L'Oreal for false advertising. The lawsuit, led by plaintiffs Brandi Price from New York, and Christine Chadwick, a California resident, specifically targets Matrix Biolage Keratindose Pro-Keratin + Silk Shampoo, Pro-Keratin + Silk Conditioner, and Pro-Keratin Renewal Spray.
Specifically, the complaint alleges that:
The products do not contain keratin and therefore are unable to provide the benefits of keratin.
Matrix and L'Oreal misled consumers into believing that products contain keratin and provide their promised benefits.
Product labels are false, misleading, and deceptive, and therefore violate the Federal Food Drug & Cosmetics Act.
Customers are misled into spending more for the product than cheaper alternatives.
Were you a Victim of False Advertising?
Consumer protection is ClassAction.com's main priority. To date, our attorneys have recovered $5 billion against negligent companies. To find out if you have a potential case, contact us today for a free, no-obligation legal review. There are never any costs unless we win a jury award or settlement.
Did you find what you need?