Risperdal Lawsuit
(Updated Dec. 7, 2017)
Risperdal, made by Johnson & Johnson/Janssen Pharmaceuticals, was first FDA-approved for use by children and adolescents in 2006. But Johnson & Johnson (J&J) promoted the drug for young people years prior to its approval for use in children, with devastating effects.
Risperdal (risperidone) can cause young boys to develop female breast tissue—a condition known as gynecomastia. Thousands are filing lawsuits.
The antipsychotic drug Risperdal (risperidone) can cause young boys to develop female breast tissue—a condition known as gynecomastia.
Even worse, Johnson & Johnson did not strengthen Risperdal labels to warn of gynecomastia risks, despite calls from doctors to do so. There is strong evidence that J&J knew of gynecomastia risks but manipulated data and withheld key evidence from the FDA. In 2013, the U.S. Justice Department hit J&J with a $2.2 billion fine for marketing Risperdal illegally.
Across the country, more than 18,000 people have filed lawsuits against J&J/Janssen alleging that the drug makers understood the gynecomastia risks but did not warn consumers about them. Many of these cases have been settled for millions of dollars. One such case recently netted plaintiff Andrew Yount $70 million.
Studies Link Risperdal to Gynecomastia
Gynecomastia stems from a hormone imbalance and can lead to the growth of male breasts and significant weight gain. It is believed that Risperdal may cause gynecomastia in some young male users because it increases levels of the hormone prolactin, which stimulates female breast development and lactation.
The study noted that risperidone should be administered to young patients with caution.
The Risperdal-gynecomastia link gained attention from a 2006 study by a Duke psychiatrist which found a strong association between Risperdal and gynecomastia in children and adolescents. The study concluded that when risperidone is administered to adolescents for psychotic symptoms, the drug can increase prolactin levels and lead to outcomes that include gynecomastia.
Another 2006 study on risperidone and gynecomastia drew a similar conclusion, noting that risperidone should be administered to young patients with caution.
A more recent study published in the Journal of Child and Adolescent Psychopharmacology concludes that there is a strong association between risperidone use and gynecomastia in young adult males. Compared to non-users, children and adolescent risperidone users were found to have a gynecomastia risk that was five times higher. The study explicitly notes the "high psychological burden" of gynecomastia.
Did J&J Conceal Gynecomastia Risk?
There is controversy surrounding J&J's knowledge of Risperdal gynecomastia side effects.
Through data manipulation, J&J was able to rebut claims about a causal link between Risperdal and gynecomastia.
According to an investigative report published on The Huffington Post, in 2002 Janssen held a meeting in which it discussed data causally linking Risperdal to high gynecomastia rates (a statistically significant 4.5%). Seeking a "re-analysis" of the problem data, the Janssen group decided that they could skew the numbers by removing data from children over the age of 10, who were likely to be going through puberty. The readjusted data showed a rate of gynecomastia that was a statistically insignificant 0.8%.
In short, through data manipulation, J&J was able to rebut claims about a significant causal link between Risperdal and gynecomastia.
According to Bloomberg, David Kessler (former head of the FDA) testified during a Risperdal gynecomastia lawsuit that Janssen knew as early as 2001 that the drug was "probably or very likely" to cause gynecomastia. Kessler called the finding "a red flag."
New Brunswick Today reports that during lawsuit testimony, a J&J biochemist who worked extensively with Risperdal testified that the same troubling data that a J&J group had fretted over in 2002—the data that showed a strong Risperdal-gynecomastia link—was never presented to the FDA.
J&J Pushed Risperdal for Off-Label Uses
Although Janssen may have known about the Risperdal-gynecomastia association as early as 2001, the federal government alleges that Janssen aggressively marketed the drug to child psychiatrists and others treating children beginning in 1999.
J&J was ordered by the Justice Department in 2002 to pay a $2.2 billion Risperdal settlement—one of the largest pharmaceutical settlements in American history. Allegations against J&J included off-label marketing and paying kickbacks to doctors and pharmacists who promoted Risperdal and other drugs.
As part of an investigation into J&J over a variety off-label Risperdal uses, the Justice Department says that from 1999 to 2005, Janssen allegedly promoted Risperdal for use in children and individuals with mental disabilities, despite the company knowing that Risperdal posed "certain health risks to children, including the risk of elevated levels of prolactin, a hormone that can stimulate breast development."
The federal government describes how Janssen sales reps called child psychiatrists and other child mental health providers and promoted Risperdal as a safe and effective treatment for a range of disorders, including ADHD, oppositional defiance disorder, OCD, and autism.
Janssen offered candy and toys in sample Risperdal packages. By 2000, more than a fifth of Risperdal users were children and adolescents. The Wall Street Journal reports that J&J also funded an academic institute that hoped to support youth Risperdal use.
The FDA did not approve Risperdal for use in children until 2006. Prior to that, the agency repeatedly warned J&J about promoting it for children.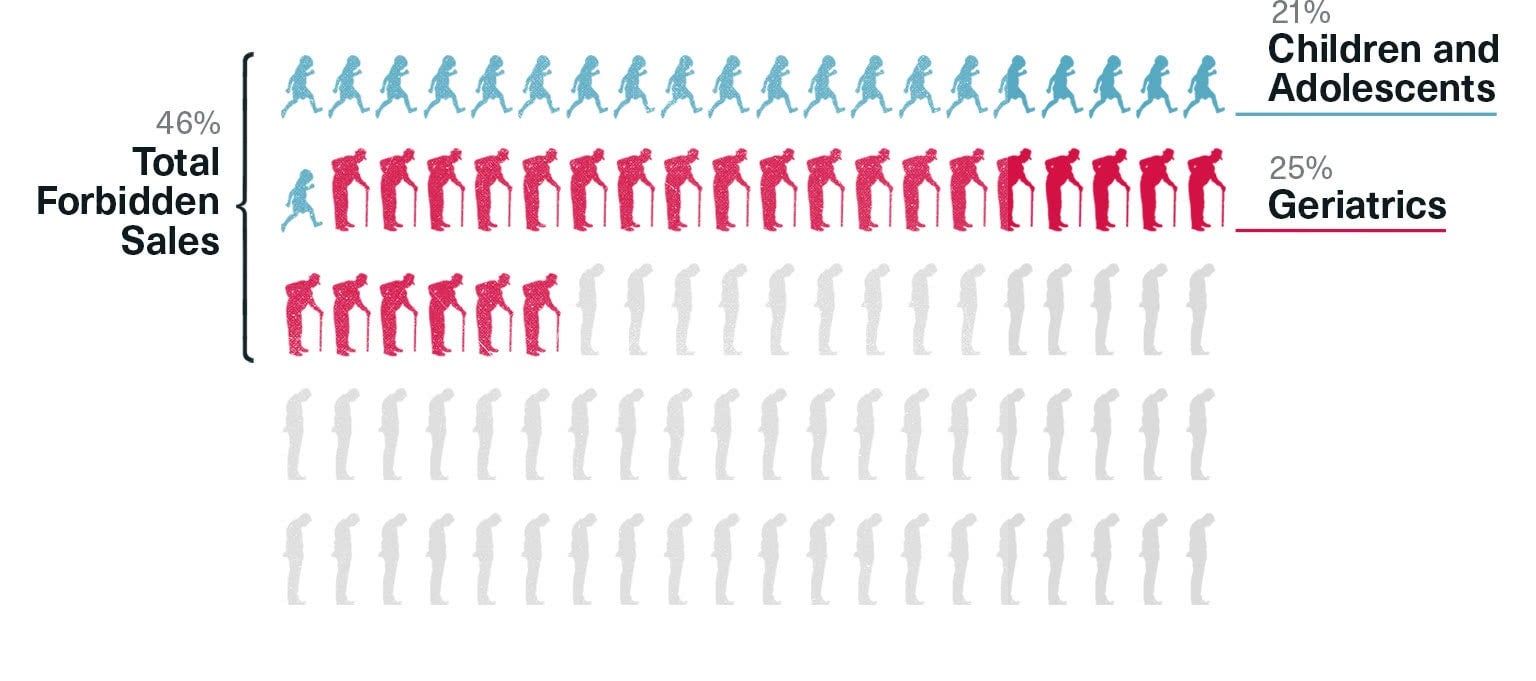 In January 2016, the U.S. Supreme Court refused to hear a J&J appeal of a South Carolina ruling that Janssen had to pay a $124 million penalty for its unlawful marketing practices.
In April 2016, Janssen reached a $15.5 million settlement with the Kentucky Attorney General over its failure to warn of the gynecomastia risks, and its off-label marketing practices.
This is pocket change for J&J, though. By successfully expanding Risperdal's use to children and the elderly, as of 2015, Johnson & Johnson had made an estimated $18 billion in domestic Risperdal profits, plus $10 billion in sales abroad.
Has There Been a Risperdal Recall?
Risperdal was never pulled from the market despite evidence that it causes gynecomastia. The J&J patent for Risperdal expired in 2007, but in 2008, and the FDA approved the first generic versions of the drug (risperidone). Risperidone generics remain available, as does the Risperdal successor, Invega.
Plaintiffs Receive Millions in Jury Awards
In November 2015, more than 1,500 Risperdal gynecomastia cases were consolidated as part of a mass tort in the Philadelphia Court of Common Pleas. All cases similarly allege that Risperdal caused gynecomastia in young men, and that Janssen did not warn users about this potential side effect.
The number of lawsuits has since grown to 18,000.
Early results indicate that some Risperdal gynecomastia victims may be in line for significant compensation:
In April 2015, a jury awarded $2.5 million to a young man who took Risperdal and developed size 44D breasts . The jury found that Janssen failed to properly warn about the ability of Risperdal to cause gynecomastia.
In November 2015, a jury awarded $1.75 million to a man who began taking Risperdal in 2003 for schizophrenia, who also developed gynecomastia.
In December 2015, a jury awarded$500,000 to another Risperdal plaintiff after he too developed gynecomastia.
According to a Bloomberg News release, Janssen has set up a large reserve to settle these lawsuits.
Did You Suffer Side Effects From Your Medication?
If you or a loved one suffered unforeseen side effects from a drug, you may be eligible for a lawsuit against the drug manufacturer. A lawsuit may be able to recover compensation for medical bills, pain and suffering, lost wages, and more.
Only a qualified attorney can determine whether you meet eligibility criteria. To find out whether you have a case, contact us for a free, no-obligation consultation. 
Did you find what you need?