The chemotherapy drug Taxotere (docetaxel) is linked to permanent hair loss—a side effect that a growing number of women say manufacturer Sanofi never warned them about.
Taxotere is linked to permanent hair loss—a side effect many women say manufacturer Sanofi never warned them about.
While hair loss (alopecia) is common during chemotherapy, hair almost always grows back when cancer treatment ends. There is a slight risk of permanent hair loss from cancer drugs, but the risk appears to be higher with Taxotere than with other chemotherapy agents.
In Canada and Europe, Sanofi has long warned doctors and patients about the risk of permanent hair loss from Taxotere. No such warning was provided in the United States until 2015.
Women are now filing Taxotere lawsuits, alleging that the drug caused them permanent, disfiguring hair loss, that they were never warned about this side effect, and that they would have chosen a different drug for treatment if they'd known about the risk of permanent alopecia.
About Taxotere
Taxotere belongs to a family of cancer drugs known as taxanes. Taxane-based chemotherapy drugs fight cancer by inhibiting cell growth and are one of the most powerful classes of chemotherapeutic agents.
Taxotere, made by French pharmaceutical company Sanofi S.A., is very similar to another taxane-based chemo drug, Taxol (paclitaxel), made by Bristol-Myers Squibb.
Taxotere was developed as a competitor to Taxol. The main difference between the two drugs is that Taxotere was designed as an increased potency taxane. Unfortunately, increased potency in this case also means increased toxicity.
Sanofi initially sought Food and Drug Administration (FDA) approval for Taxotere in 1994. The FDA rejected the request, noting that Taxotere was more toxic than its competing drug Taxol (already approved by the FDA) and that more research into Taxotere's side effects was needed.
Taxotere has a significant risk of long-term alopecia.
The FDA ultimately granted approval to Taxotere in 1996. The agency added to product labeling that Taxotere was "indicated for the treatment of patients with locally advanced or metastatic breast cancer after failure of prior chemotherapy."
Since its initial approval, Taxotere has been cleared to treat a number of other cancers, including lung cancer, head and neck cancer, and prostate cancer.
However, prescribing information still warns of toxic deaths and blood toxicity side effects. And unlike Taxol—which has a very small risk of permanent hair loss—Taxotere has a significant risk of long-term alopecia.
Taxotere and Permanent Alopecia
Alopecia is a medical term for hair loss. It can occur not only on the head, but across the entire body, including the face, arms, legs, underarms, and pubic area.
Some people develop alopecia as an autoimmune disease when their body mistakenly attacks hair follicles. Alopecia can also occur during cancer treatment when chemotherapy and radiation harm the cells that help hair grow.
Sanofi never voluntarily disclosed the risk of Taxotere-related permanent alopecia.
Not all chemotherapy causes alopecia, and hair loss is usually not permanent. Certain chemo drugs are more likely than others to cause alopecia. Taxotere appears more likely than other chemo drugs to cause permanent alopecia.
Permanent alopecia is a disfiguring condition, particularly to women. In lawsuits, women allege that Sanofi knew about the risk of permanent alopecia from Taxotere but failed to fully disclose this information to U.S. doctors and patients.
Sanofi claims that only 3 percent of patients receiving the drug experience long-term alopecia, but studies dispute this claim.
A long-term study called GEICAM 9805, sponsored by Sanofi and Grupo Español de Investigacion en Cancer de Mama (GEICAM), was initiated in 1998. Study results published in 2005 showed that 9.2% of patients who took Taxotere had persistent hair loss for up to 10 years (and in some cases longer).
In 2006, a Colorado cancer doctor published a study which found that 6.3% of his patients treated with Taxotere suffered from permanent hair loss years after they stopped taking the drug. This same doctor, in an interview with A Head of Our Time, a group dedicated to women living with persistent chemo-induced alopecia, said, "Why are you still battling alopecia? Well, it's because you had Taxotere."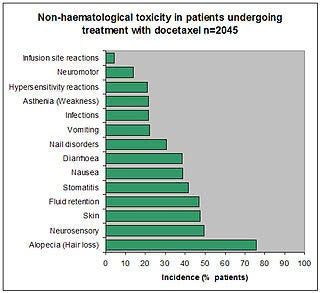 At the 2014 National Cancer Research Institute (NCRI) Cancer Conference, the results of a questionnaire sent to patients who received Taxotere and experienced permanent alopecia were presented. Among respondents, 15.8% had significant persistent scalp hair loss, while others had no regrowth of body hair to other parts.
Sanofi never voluntarily disclosed the risk of Taxotere-related permanent alopecia. Finally, in 2015, the FDA ordered a labeling change to reflect this risk, although it is not a black box warning (the FDA's strongest warning type).
No one is sure why Taxotere can cause permanent hair loss. One report hypothesizes that the drug causes toxic damage to hair cells, or produces endocrine dysfunctions.
Treatments such as minoxidil (Rogaine) can promote hair regrowth but must be used continually, or any hair that grows back will fall out again. Hair transplantation is another option.
Drug Maker Warned by FDA, Sued Under False Claims Act
Following the FDA approval of Taxotere, Sanofi began a marketing campaign that sought to establish the drug as superior to competing products approved to treat breast cancer.
A 2008 study in the New England Journal of Medicine found that Taxol is more effective than Taxotere.
Taxotere was marketed as being superior to its lower potency rival drug, Taxol (paclitaxel). This claim, however, was based on spotty science, and the FDA reprimanded Sanofi in a 2009 warning letter, saying that promotional literature circulated by Sanofi was "false or misleading because it presents unsubstantiated superiority claims and overstates the efficacy of Taxotere."
A 2008 study published in the New England Journal of Medicine concluded that, in fact, Taxol is more effective than Taxotere for adjuvant treatment of breast cancer.
A qui tam (False Claims Act) lawsuit was also filed against Sanofi in 2015 by a former employee who accused the company of fraudulently marketing Taxotere and paying kickbacks and other incentives to physicians.
The employee alleges that from 1996 to 2004, Aventis promoted Taxotere for off-label (unapproved) uses.
The alleged scheme, according to the employee, involved directing employees to misrepresent the safety and effectiveness of the drug for off-label uses (in order to expand the drug's market) and paying healthcare providers kickbacks, including sham grants, speaking fees, and travel and entertainment to encourage them to prescribe Taxotere for off-label uses.
The scheme purportedly led to an increase in Taxotere revenue from $424 million in 2000 to $1.4 billion in 2004.
Taxotere Lawsuits Being Filed
Did Sanofi hide Taxotere permanent hair loss risks while falsely and illegally promoting the drug to increase profits? That's what women are claiming in lawsuits filed against the pharmaceutical company.
The lawsuits seek compensation for personal injuries resulting from Taxotere use and insufficient Taxotere warnings. These injuries include psychological trauma, medical bills, and loss of earnings.
If you or someone you know has suffered permanent hair loss after using Taxotere, you may have a case. Contact us to complete a free case review and find out whether you qualify for compensation.