Taxotere Lawsuit
Our attorneys are currently filing lawsuits on behalf of women who took the chemotherapy drug Taxotere and suffered permanent hair loss (alopecia).
Women who undergo cancer treatment expect that their hair might fall out, but are told that it will grow back a few months after therapy ends. They also expect that, if a certain chemo drug presents an abnormally high risk for irreversible hair loss, that they will be informed of this side effect so that they can make an informed health care decision.
Our attorneys are  filing lawsuits on behalf of women who took Taxotere and suffered permanent hair loss (alopecia).
But in the case of Taxotere—which studies show is more likely than similar, equally effective chemotherapy agents to result in permanent alopecia—women were never given this choice, because they were not warned about alopecia side effects.
For years, Sanofi included alopecia warnings on Taxotere sold in Canada and in Europe, but no such warnings were included with U.S.-sold Taxotere until 2015. As a result, some women claim that they suffered debilitating, permanent hair loss that could have been prevented.
Hair Loss Is Devastating to Women
Women suffering from chemotherapy-related hair loss have reported that, even though they recovered from cancer, they have not made a full recovery due to their baldness.
Some women have said they would rather lose a breast to cancer than lose their hair.
Hair loss is associated with lower self-esteem, decreased self-confidence, feelings of depression, and other emotional consequences. The psychological impact of hair loss affects both genders, but women are especially hard hit. Doctors theorize that these feelings are due to societal beauty standards towards women.
They say that hair loss has left them feeling self-conscious, unattractive, and socially crippled. Some women have even said they'd rather lose a breast to cancer than lose their hair.
In the case of Taxotere-related hair loss, women explain in their own words why their permanent alopecia is so devastating:
"I wasn't freaked out when I lost my hair because I was told it would grow back. I was ready for the adventure of seeing how it would be. I wasn't prepared for looking like the 'Crypt Keeper' for life. It's more than just being bald, it's a constant reminder of cancer." – Member of A Head of Our Time, a support group for women with chemo-induced alopecia
"Everyone expects me to return to normal now that my cancer treatments are over. But I can't. I smile and pretend that everything is okay, but I'm a wreck inside. Every morning, it takes all my courage just to walk out the door. I used to be outgoing and carefree. Now I'm withdrawn and self-conscious. An invitation to a party creates stress, meeting new people is nerve-racking and a casual glance in the mirror can reduce me to tears." – Arkansas woman with chemo-induced alopecia
"They absolutely told me my hair will grow back. I will never be well of breast cancer because of this. My life is not over, but my life is drastically changed." – Oklahoma woman treated with Taxotere
"Something had gone drastically wrong with my hair follicles during treatment. What was supposed to be a temporary side-effect was actually going to be a permanent disfiguring feature in my life. I left the clinic that day in total denial and devoid of any femininity." – UK Taxotere user and cancer survivor
Making matters worse for patients dealing with permanent hair loss after chemotherapy is the fact that some of them were not given a choice in the matter, even though cancer drugs without similar risks are available. Sanofi admits that 3% of patients given Taxotere could suffer permanent alopecia, but studies show that number to be much higher.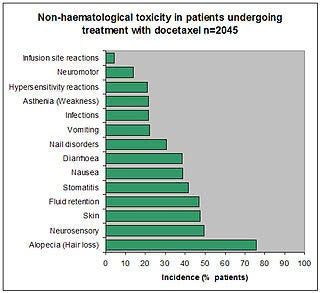 Alopecia warnings were not indicated for U.S.-sold Taxotere until 2015—nearly 20 years after the drug was introduced to the market here.
Hair loss is bad enough. Hair loss without warning is unjustifiable, not to mention grounds for legal action.
"I was informed that there was a risk of heart damage with [chemo drug] Herceptin, but I still decided to go ahead with the treatment," says a San Diego member of A Head of Our Time who was treated for breast cancer with Herceptin plus Taxotere.
"The difference is that it was MY decision. When that choice is taken away due to non-disclosure, it's an assault and is inexcusable."
What Do Taxotere Lawsuits Allege?
The Taxotere lawsuits allege that drugmaker Sanofi:
Knew, or should have known, about Taxotere alopecia side effects and provided proper warnings.
Did not adequately test Taxotere to determine its risks.
Was negligent in its design, manufacture, and marketing of Taxotere.
Sold an unsafe, defective, and inherently dangerous drug.
Had a duty to create a product that was not unreasonably dangerous when used as intended.
Caused plaintiffs to suffer permanent alopecia as a result of its acts and omissions.
What Can Someone Recover from a Taxotere Lawsuit?
A lawsuit can provide compensation for the following Taxotere-related losses:
Medical, psychological counseling, and therapy expenses
Loss of earnings and lost earning potential
Permanent disfigurement
Mental anguish
Emotional distress
Diminished quality of life
The amount of damages recoverable through a lawsuit depends on an individual's harm suffered and other unique circumstances.
Who Is Eligible?
To be eligible for a Taxotere lawsuit, you must have:
Taken the drug as part of a chemotherapy regimen.
Developed permanent alopecia, as diagnosed by a physician.
Suffered demonstrable losses as a result of permanent hair loss.
Keep in mind that only an attorney can determine whether you are eligible for a lawsuit.
Get a Free Case Review
ClassAction.com's top legal minds are product liability experts who have taken on the world's biggest drug companies and won substantial recoveries for clients. We are currently speaking with women who took Taxotere and developed permanent alopecia to determine if they have grounds for a claim.
Find out whether you might be eligible for compensation.
Contact us to complete a free case review and find out whether you might be eligible for compensation.
Did you find what you need?