Volkswagen's 2015 admission that it used software to rig emissions tests in as many as 11 million vehicles worldwide—including nearly 600,000 in the United States—left many wondering how such a massive deception would impact VW owners.
VW equipped 600,000 cars with emissions cheating software. These TDI vehicles pollute at illegal levels.
On October 25, 2016, a federal court approved the terms of a $15 billion settlement that VW hopes will make things right with U.S. TDI owners.
On December 20, 2016, VW announced it had also reached a $1 billion settlement with 3.0L diesel drivers affected by Dieselgate.
That same week, the company announced a settlement with Canadian drivers impacted by the cheating scheme. The Canadian settlement will reimburse owners with between $5,100 and $8,000, depending on the make and model of their VW vehicle.
Finally, in January 2017, the German automaker reached a $4.3 billion agreement with the U.S. Department of Justice, which will cover criminal and civil charges stemming from the Dieselgate scandal.
Opting out of these settlements to pursue separate legal action may still be the best course for some VW owners.
A Brief History of VW
Volkswagen was founded in 1937 by the German government, then under the control of the Nazi Party. The state-owned automobile company was a pet project of Adolf Hitler, who wanted to design a practical, affordable car that (along with the Autobahn highway system) would motorize the masses. Hitler hired Austrian engineer Ferdinand Porsche to design the car, originally called the KdF-Wagen, but referred to by the public as the Volkswagen, or the "people's car."
A factory for the new car company was built in the town of KdF-Stadt (modern day Wolfsburg, where VW is still headquartered) in 1938, but with the onset of World War II the following year, civilian auto production was halted in favor of wartime production.
After the war, automobile manufacturing resumed, initially under British control. VW was returned to German hands in 1949 and production ramped up, but the company was still only making one car: the Beetle.
Volkswagen of America was established in 1955.
The Beetle became the best-selling import car in the U.S.: a title it would hold until 1975. But the Beetle's design hadn't significantly changed since the 1930s, and sales began to slow down, prompting VW to switch to sportier models, including the Passat, Golf, and Polo.
Volkswagen expanded through the 1970s, '80s, and '90s with the acquisition of European carmakers such as Seat, Skoda, Bentley, and Lamborghini. Porsche tried to take over VW in 2005, but VW turned the tables and took over Porsche in 2012.
VW executives had predicted that the company would be the world's largest automaker by 2018. It achieved this goal three years ahead of schedule, when it sold more units than rival Toyota in the first half of 2015.
But the achievement was short-lived. Following VW's admission that it rigged emissions tests on 11 million diesel vehicles globally, Toyota passed VW in the second half of 2015 to reclaim its title.
The Dieselgate Scandal
Volkswagen used sophisticated software known as "defeat devices" in order to cheat on federal emissions testing. Specifically, Volkswagens equipped with defeat devices were found to produce excessive levels of nitrous oxides.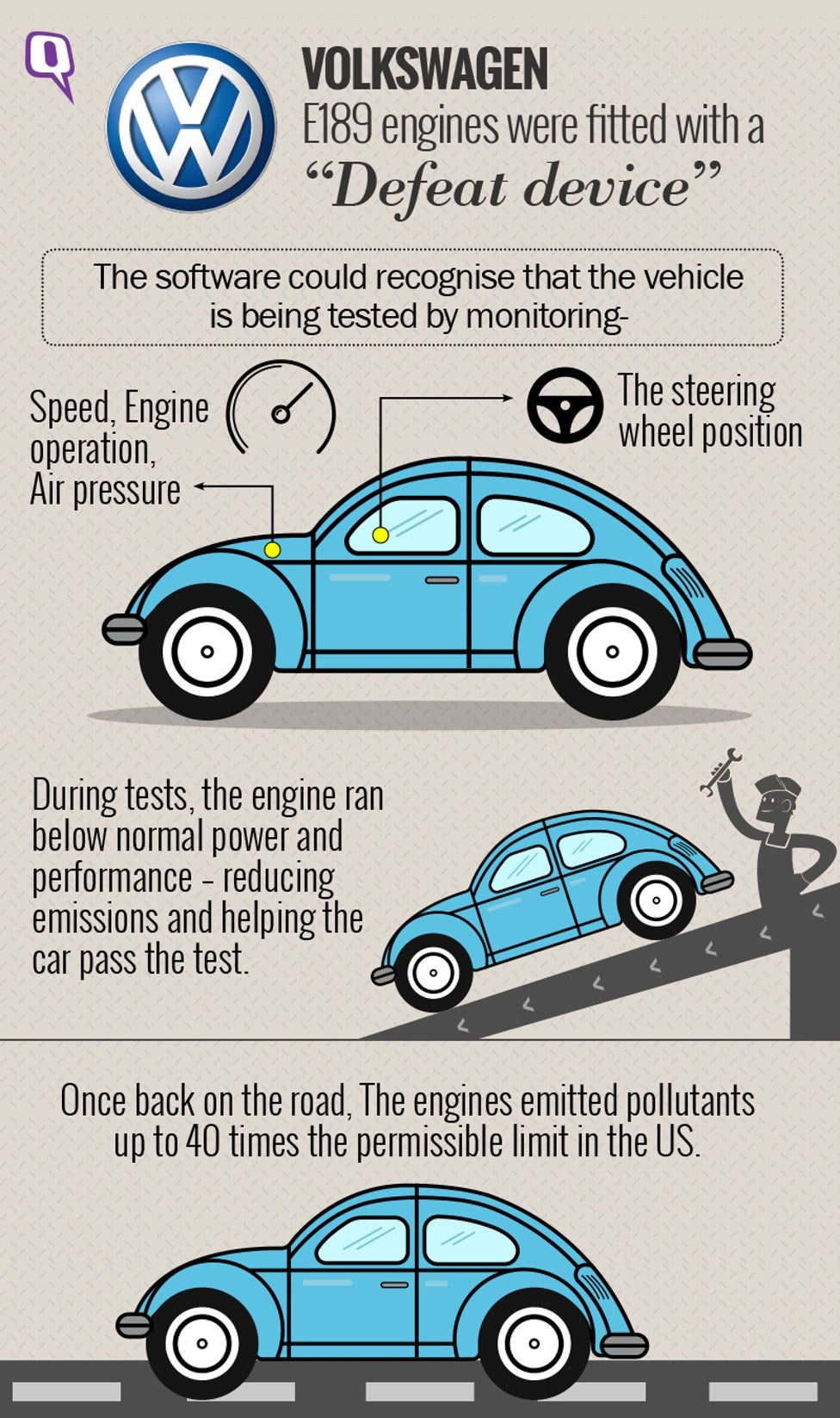 The Environmental Protection Agency (EPA), through the Clean Air Act (CAA), has set some of the world's strongest vehicle emission standards to control air pollution. All vehicles sold in the U.S. must be certified by the EPA as having met an air pollution score that considers certain air pollutants, including carbon monoxide, particulate matter, and nitrogen oxides (NOx).
Compared to gasoline engines, diesel engines get better gas mileage and produce fewer carbon emissions. But they also produce more NOx emissions. This is one of the main reasons why diesels have long been more popular in Europe, where fuel is costlier and NOx standards are laxer. But in recent years, thanks to a stronger U.S. emphasis on fuel economy standards and improved "clean diesel" technology, diesel vehicles have gained in popularity stateside.
By 2013, Volkswagen was the U.S. leader in automotive diesel sales, with a nearly 80% market share. Volkswagen's gains came largely through sales of its new 4-cylinder, 2.0L TDI (turbocharged direct injected) engines, which VW marketed as having a "fantastic power train" that "gives very good fuel economy" and "is also good for the environment" because "the emissions of nitrous oxide are cut by 95%."
For drivers who did not want to sacrifice driving experience for fuel economy and cleanliness, the VW TDIs were ideal. In fact, they were too good to be true.
After suspicious findings from an independent testing facility alerted the EPA to a potential problem with the VW TDIs, an investigation followed, and VW was forced to admit in September 2015 that since 2008 it had intentionally used defeat devices to cheat on emissions testing. The "clean diesel" VWs, it turns out, produce NOx at levels up to 40 times higher than federal laws permit.
How the Defeat Devices Work
The defeat devices employ a sophisticated software algorithm that distinguishes between official emissions testing and real world driving, and operates in two different modes accordingly. When the software determines that the vehicle is on a dynamometer (testing equipment), it switches to an operating mode that produces lower emissions. But the rest of the time, this operating mode is not activated and the vehicles emit illegal levels of NOx.
How Volkswagen Got Caught Cheating
Volkswagen may very well have perpetuated its emissions fraud indefinitely if not for the work of a tiny, non-governmental organization called the International Council for Clean Transportation (ICCT). In 2013, the ICCT commissioned testing of VW diesels at West Virginia University. The test was meant to show Europeans that it was possible to engineer diesels with lower NOx emissions.
VW admitted that from 2009 through 2015, it used defeat devices to cheat emissions tests.
Importantly, the tests measured real world driving conditions. Probes were inserted into the exhaust pipes of the VW cars and they were driven from San Diego to Seattle.
The group was not expecting to find higher-than-expected emissions, but that is what testing revealed. Retests confirmed the finding, which was put into a little-read May 2014 report.
The report, however, did catch the attention of the EPA and the California Air Resources Board (CARB), both of which opened investigations and began discussions with Volkswagen to determine why the VWs had such high NOx emissions.
Volkswagen said that technical issues were to blame and proposed a number of fixes. CARB and EPA did their own testing and concluded that the technical issues suggested by VW did not adequately explain the emissions discrepancy.
When faced with the threat that its 2016 clean diesels would not be issued certificates of conformity (and therefore couldn't be sold in the U.S.), VW admitted to the EPA and CARB that from 2009 through 2015, it used defeat devices to cheat emissions tests.
Affected Models
Approximately 500,000 4-cylinder 2.0L TDI cars sold in the U.S. contain defeat devices, including the following:
VW Jetta (2009-2015)
Jetta Sportwagen (2009-2014)
VW Golf (2010-2015)
VW Golf Sportwagen (2015)
VW Beetle(2013-2015)
Beetle Convertible (2013-2015)
VW Passat (2012-2015)
Audi A3 (2010-2015)
Since Volkswagen initially admitted to cheating on emissions, the scandal has extended to around 80,000 6-cylinder 3.0L TDI Volkswagens, including:
Audi A6 Quattro (2014-2016)
Audi A7 Quattro (2014-2016)
Audi A8/A8L (2014-2016)
Audi Q5 (2014-2016)
Audi Q7 (2009-2016)
Porsche Cayenne (2013-2016)
VW Touareg (2009-2016)
Why NOx Emissions Matter
NOx pollution is strictly regulated because it can contribute to health problems. Automobiles and other mobile sources contribute about half of the NOx that is emitted, according to the EPA, making it important to regulate NOx from these sources.
In an EPA notice of violation (NOV) of the Clean Air Act to Volkswagen, the EPA explains how the company's use of defeat devices in cars is a threat to public health.
NOx pollution, the EPA explains in the notice, "has been linked with a range of serious health effects, including increased asthma attacks and other respiratory illnesses that can be serious enough to send people to the hospital."
Exposure to NOx pollution is also associated with premature death from respiratory or cardiovascular effects. These health conditions disproportionately affect children and the elderly.
EPA Action Against Volkswagen
The Clean Air Act has an enforcement mechanism that permits the federal government to fine violators. In a civil lawsuit filed against Volkswagen by the Justice Department and the EPA on January 4, 2015, the U.S. sued VW for CAA violations that could total more than $18 billion, although such cases typically settle out of court for a reduced amount.
Separately, the U.S. might bring criminal charges against Volkswagen or its executives.
Any fixes for polluting vehicles that VW implements must first gain EPA approval. In response to the EPA lawsuit, Volkswagen released a statement saying "it will continue to work cooperatively with the EPA on developing remedies" that will bring its diesel fleet "into full compliance with regulations as soon as possible."
The EPA and CARB have already rejected one Volkswagen recall plan for California cars. Volkswagen is reportedly considering a catalytic converter retrofit that it says could fix 430,000 U.S. cars. The company has also offered to buy back all affected models.
VW Lawsuits Seek Compensation
Across the country, both class action lawsuits and private lawsuits seek compensation related to the diesel emissions scandal. Plaintiffs claim that they were duped into paying high sticker prices for cars that don't deliver the clean emissions they promised.
Plaintiffs claim they were duped into paying high sticker prices for cars that don't deliver clean emissions.
They seek damages for things like the price difference of a diesel car over an equivalent gasoline vehicle, diminished resale value, and the cost of reduced gas mileage that could result from fixing the cars.
Our attorneys have filed a lawsuit on behalf of Volkswagen owners.