The 3 Greatest Threats to Uber
Published September 15, 2016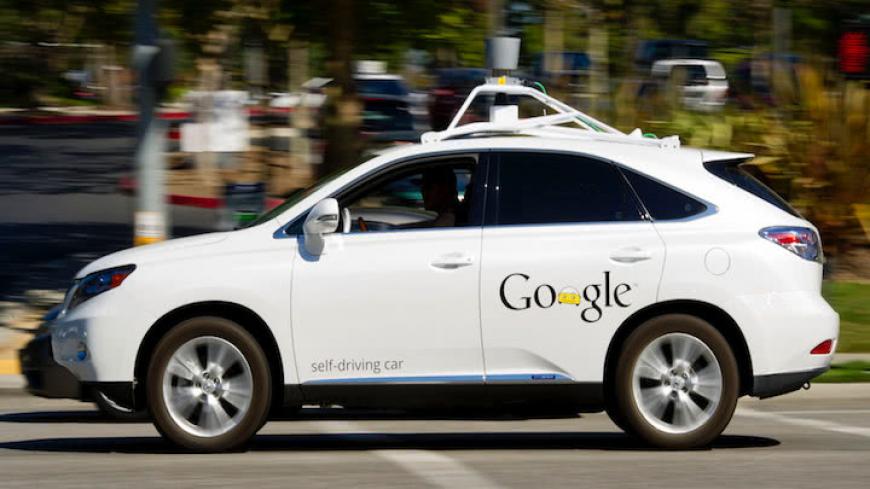 For Uber, 2016 has been one bumpy ride.
From January to June, the company recorded losses of $1.2 billion. (In 2015, Uber lost $2 billion.)
In July, after two years and two billion dollars lost in China, Uber bowed out of the country, selling its operations there to hated rival Didi Chuxing.
On August 18, a judge rejected the $100 million settlement Uber had reached with drivers in California and Massachusetts over their independent contractor misclassification. Two weeks later, The Wall Street Journal reported that Google would launch its own ride-sharing service via popular route-finding app Waze.
From January to June, Uber recorded losses of $1.2 billion.
Finally, in October, New York's Department of Labor ruled that Uber drivers are employees—a ruling echoed later that month by three London judges.
Oof. Even for The Most Valuable Startup in the World, that has to hurt.
It would be hyperbole to say that Uber is in danger of failing. (A $62 billion valuation affords at least a little security.) But, unlike a year or even six months ago, one can now conceive of a world in which Uber falters.
Here are the three greatest threats to the ubiquitous ride-sharing service.
1. Lawsuits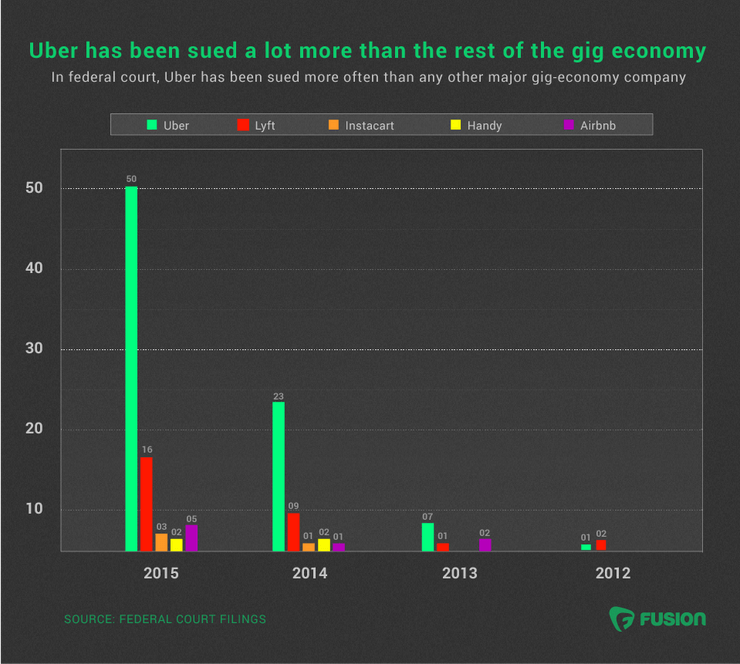 Uber faced 50 federal lawsuits in 2015: more than Lyft, Instacart, Handy, and Airbnb combined. They outpaced these other gig economy companies in 2014, 2013, and 2012 as well.
They have fought more legal battles than billion-dollar startups Snapchat, Pinterest, WeWork, Dropbox, SpaceX, and Palantir (whatever that is). And the end is nowhere in sight.
In April 2016, a $100 million settlement was reached in two class action Uber lawsuits representing 385,000 drivers in California and Massachusetts.
Scores of drivers filed objections to the deal, which they considered unfair. The lead plaintiff, driver Doug O'Connor, fired his attorney. In a formal objection filed with the court, Mr. O'Connor said that the deal "is not in my interest or in the interest of any Uber driver."
U.S. District Judge Edward Chen agreed. On August 18, 2016, he rejected the Uber settlement, saying it was not "fair, adequate, and reasonable" for drivers. (These cases will now go to arbitration.)
Judge Chen noted that the amount offered to drivers was just ten percent of what the Uber lawsuit claimed drivers were owed: $1 billion.
Dozens of Uber lawsuits are still pending in courts nationwide. In addition to monetary losses, Uber should dread the potential of a judge ruling that Uber misclassifies its employees as contractors.
By some accounts, Uber would owe its drivers $730 million in reimbursements if their drivers had employee rights.
2. Fines & Fees
In his decision, Judge Chen also emphasized that under the terms of the settlement Uber would pay just $1 million in state penalties—which could otherwise total more than $1 billion.
Two weeks later in Pennsylvania, a state regulator reinstated an $11.4 million fine against Uber for exactly these kinds of penalties. This fine arrived about six months after California's Public Utilities Commission (CPUC) hammered Uber with a $7.6 million fine for shirking state regulations.
The Pennsylvania Public Utility Commission (PUC) says that Uber operated illegally in the state from February to August 2014, providing almost 123,000 rides without state approval. According to the PUC, Uber also obstructed the state's investigation into its dealings.
Two judges originally set the fine at $49.9 million, but the PUC reduced the total to $11.4 million—against the wishes of state officials.
Uber vowed to appeal, calling the fine "absurd." But decisions like the PUC's and CPUC's often establish a precedent. What is to stop the other 48 states from issuing similar (or even higher) fines?
Moreover, as Uber knows all too well, global expansion is expensive. The startup has met resistance in Australia, Belgium, Brazil, Denmark, France, and countless other countries. Adapting to each nation's unique laws, waging lengthy legal sieges, and fighting taxi unions costs a lot of money.
In China, Uber tried for two years to make it work. After $2 billion in losses, they threw in the towel.
3. Google/Waze
In May, Google launched an exclusive carpooling service in the Bay Area. Now, through the Waze app, Google is expanding that soft opening so that anyone in San Francisco or Oakland with Waze can request a ride.
The service costs a maximum of just 54 cents per mile, far cheaper than Uber or Lyft. Though it is currently just a carpooling service, presumably Waze will broaden its offerings to include the kinds of on-demand rides made famous by Uber and Lyft.
And like Uber, Waze may not need drivers to do so.
Google's Self-Driving Car Project (developed by Google X) has been in the works for a decade, with the aim of releasing these cars into the wild in 2020.
It is easy to envision, then, a scenario in which Google/Waze spends the next four years building a ridesharing infrastructure and customer base across the country, and then replaces at least some of its drivers with driverless cars—which would save it a bundle.
In the meantime, Google can learn from Uber's mistakes and either classify its (human) drivers as employees or offer them similar reimbursements, tips, and other employee rights that Uber has failed to deliver. Because Uber has already waded through so much thorny legal territory (and continues to do so), Waze's path should be much clearer and smoother.
Uber is the most valuable startup in the world, but Google's parent company Alphabet Inc. is The Most Valuable Company in the World, with a market value of $546.50 billion: nine times that of Uber.
Uber is a giant, but Google is a god. It has several advantages over Uber (money, branding, experience) and could very well take the startup down—or, more likely, over—in the long run.